Top things to see and do in White Rock
This stunning West Coast destination is a preferred choice among RVing families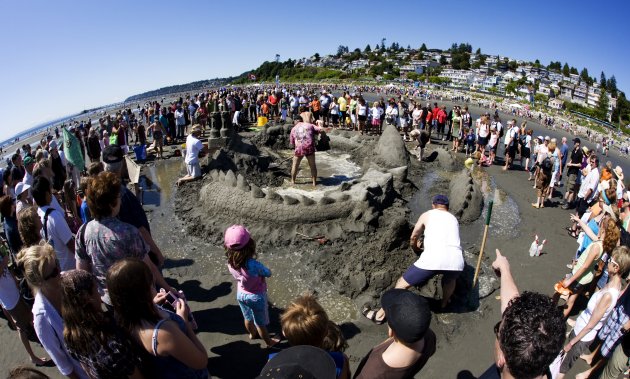 With its brilliant sunsets, waterfront restaurants and activities galore, White Rock attracts fun-seeking families. There are many options for all age groups to enjoy, but here are a few of the top choices available to get you started on your White Rock adventure.
1. Hit the beach
Perhaps the first thing you'll notice when visiting White Rock is its sandy beach areas. The city is lined by an oceanfront promenade that is ideal if you want to take your family for a stroll and watch the sun set or grab a bite to eat at one of the restaurants nearby.
"Whether you want fun for the whole family or a romantic weekend getaway, you'll find it all right here, all year round," said Betina Albornoz of Tourism White Rock. "The city is clustered around an eight-kilometre sandy beach . . . It's also bursting with dining options, from award-winning fine dining to local favourites, cafés and bistros. The city is famous for its pier that stretches 457 metres into the shallow, warm waters of Semiahmoo Bay."
In addition to an energetic walk on the promenade, the kids will love building sandcastles, sampling ice cream, flying kites and other beach activities during their visit.
2. Hop into the water
A day on the beach wouldn't be complete without some wet and wild water activities. There are ample spots to go swimming in warm, calm waters, and you can take part in fishing or crabbing and bring back some fresh-caught treasures of the sea. You can even wait for the tide to go out and explore the tidal pools. For older kids and adult visitors, there are plenty of opportunities to enjoy water sports as well, including paddle boarding, kayaking and more.
3. Embrace the Spirit of the Sea
One of the biggest tourism draws of White Rock is its annual Spirit of the Sea Festival, a summer weekend celebration that is a delight for adults and kids alike. Children will get a kick out of the parade, Pirates in the Park activities and mural painting, to name a few. The adults can browse the waterfront market, participate in a paddleboard relay race and more. Sate your appetite at a Semiahmoo First Nation Salmon Bake, and sample food from a traditional salmon barbecue. In 2013, Spirit of the Sea happens August 3 and 4.
4. Kid-friendly arts and culture
There are a number of ways to teach the youngsters about arts and culture in White Rock. They can take part in arts and crafts activities at 4Cats Art Studio in Five Corners, a highly interactive studio where imagination has no limit. Also, be sure to stop by the White Rock Museum & Archives for an interesting and colourful look at the history of the area. There are exhibits from railway history, pioneer artifacts and much more.
5. Unique boutiques
White Rock is an appealing place for shoppers, with a number of offbeat and intriguing stores where visitors can pick up some souvenirs.
"Climbing uphill from waterfront Marine Drive, Johnston Road is lined with eclectic, independent retailers," said Albornoz, "from galleries and delis to bookstores, fashion boutiques, home decor, antique and consignment shops."
With all these options, you're sure to keep busy, and even more likely to plan for a return trip to this fabulous B.C. destination.