Top five things to do in Whistler
Skiing, biking, spa, golf and hiking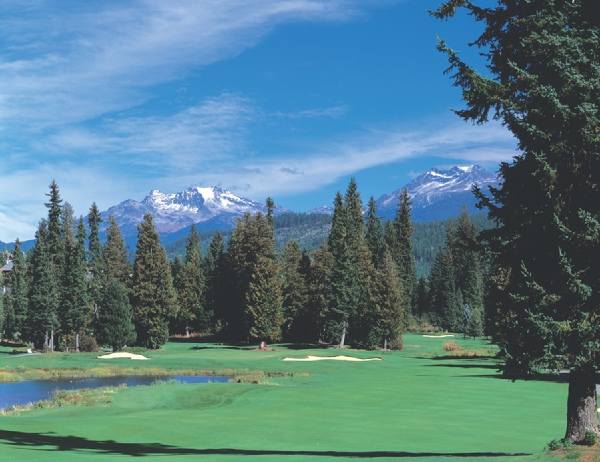 1. The mountains
To start your visit to Whistler on a truly high note, hit the Whistler and Blackcomb mountains, side-by-side mountains which offer over 200 marked runs for various winter sports and activities. In the summer there are biking trails and over 50 kilometres of hiking terrain spread over 18 alpine trails that range in difficulty from beginner to expert.
An open-air Peak Express Chair from the Roundhouse Lodge, located at the top of the Whistler Village Gondola or Whistler P2P terminal, is a great way to enjoy views of a snowy glacier on your ascent to the Whistler Summit. From the summit you can access Whistler Mountain's signature hiking trail, the High Note Trail, which stretches through rugged terrain and alpine meadows into Garibaldi Provincial Park. The 9.4-kilometre loop provides stunning views of Cheakamus Lake and brings you back to the Roundhouse Lodge.
As you hike, keep your eyes open for inukshuks as well as the nine different mountain flowers that are indigenous to Whistler Blackcomb and three species of animals: bears, marmots and black-tailed deer. The shrill summertime whistle of the armot was the inspiration for the mountain's name.
Once back at the Roundhouse Lodge, the largest on-mountain eatery, refresh with some food and drink before boarding the world-record-breaking Peak 2 Peak Gondola to Blackcomb Mountain and its six additional hiking trails, including the Overlord Trail, Lakeside Loop and Decker Loop. The summer Peak 2 Peak Alpine Experience is open from May to September 2013.
2. Whistler Olympic Plaza
Three years have passed since the closing ceremony concluded Whistler's role as host mountain resort for the 2010 Winter Olympic Games, but lasting legacies such as the Whistler Olympic Plaza still carry a torch for the international sporting event.
Redesigned as a permanent place for public activity, the plaza continues to support the three pillars of the Olympic and Paralympic Games: sport, environment and culture. Its expansive lawn and pavilion, set amongst tributes to the games and public artwork, is transformed into an outdoor ice skating rink for the winter months, while outdoor performances such as a summer concert series make it a popular spot for visitors and locals alike year-round.
Especially for first-time visitors to Whistler, the original Olympic cauldron and the Olympic rings, which have both found their permanent home at the plaza, are great attractions and offer excellent photo opportunities.
3. Whistler Golf Club
Whether they bring their own clubs or make use of the Nike rentals that are available, golf enthusiasts should make time for at least one round at the award-winning, Arnold Palmer-designed Whistler Golf Club.
"For golfers, Arnold Palmer is known throughout the world, and Whistler's attitude is casual," said Golf Operations Manager Luc Binette. "Everybody's welcome."
Established in 1983, the now top-ranked club was the first in town and enjoys a prime location right in the village, a separate entrance for RVs, and plenty of parking.
"We're a resort-caliber course that you can put against any other course in the world," said Binette. "The views are fantastic and in the summertime you can see Whistler Blackcomb from everywhere on the golf course. There are old growth trees everywhere and the views are second-to-none."
He said that while "every hole is going to give you a view," hole 16 is the course's signature.
"Sixteen is our only elevated tee," he said. "You can look at Mount Currie and Wedge and Armchair, Rainbow Mountain and of course Whistler Blackcomb; it is a fantastic golf hole."
4. Scandinave Spa
Conveniently located near the Riverside RV Resort and Campground, just a five-minute drive north of Whistler Village, the Scandinave Spa is one of the best ways to unwind after a day of activity. An outdoor spa based on the age-old Finnish tradition of hydrotherapeutic baths, the $9-million spa features dry saunas, steam baths, hot and cold pools, massage rooms, solariums, and terraces with outdoor fireplaces. Shrouded by spruce and cedar forest and observant of a no-talking policy, the spa provides an opportunity for guests to enjoy the natural sounds of Whistler. Guests are recommended to allow themselves at least two full hours to enjoy the spa experience.
5. Cross-country bike trails
While Whistler is well-known as a downhill biker's dream, it also has a world-class network of paved and unpaved cross-country trails. There are a multitude of access points for the trail network and trails offer a wide range of riding styles for every level of rider. From the Riverside RV Resort and Campground there is easy access to the 40-kilometre paved pedestrian/bike Valley Trail, which connects with Whistler Village, Rainbow Park and Alta Lake. Bike along the Valley Trail for a view of the back side of both the Whistler and Blackcomb mountains, a unique perspective on the scenic mountain terrain.