Weyburn - Land of the Living Skies
The key to taking a great photo in Weyburn: just look up
by Gail Kesslar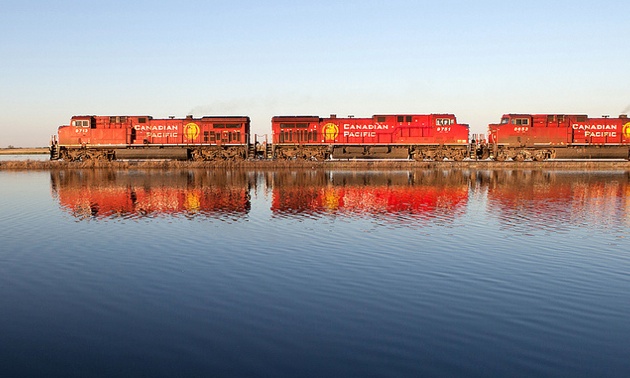 When visiting Weyburn, Saskatchewan, said photographer Jon Gillies, you should know that you are walking into a very traditional prairie setting. That's something he didn't fully grasp until he moved into the area seven years ago.
"It was a bit of a shock," said Gillies. "I lived in North Battleford and other communities in northern and central Saskatchewan all my life, so I thought I knew what Saskatchewan was all about. But here, all the jokes about Saskatchewan are true. It really is that flat."
With little on the wide open prairie in the way of trees and flora to capture, Gillies said the key to taking beautiful shots of the Weyburn area is to use a little creativity.
"You definitely have to go out knowing what you're looking for," said Gillies. "And one of the best things you'll find are the most amazing sunsets you have ever seen—sunsets that last for a really long time."
Gillies provides some cautions for photographers attempting to capture those prairie sunsets.
"Make sure you put something in the foreground of your shot," he said, "like one of our many grain elevators or an old abandoned farmhouse or outbuilding, because they can help to anchor your photo and give it that whimsical look of history gone by."
Gillies also advises people to make the effort to take their camera off the automatic settings.
"It's not the equipment that makes the photographer," said Gillies. "But it's fun to see what else your camera is capable of."
Gillies suggests that visitors frame their photos with other iconic images from the area, including pump jacks that represent the oil and gas industry, the trains that traverse back and forth across the prairie, and the many abandoned buildings that dot the landscape—some of which can be found just south of the city, five minutes off the highway. Of course you will need good footwear due to broken glass and boards and always be aware of your surroundings, taking care to stay outside of the buildings at all time due to their dilapidated condition.
For those who prefer greenery, Weyburn has beautiful walking paths along the Souris River. Here and at Nickle Lake Regional Park just 11 kilometres southeast, visitors will also be able to find wildlife including deer, moose, owls and other bird life. The key to wildlife photography, said Gillies, is to do a little research before you head out. Know the habits and habitats of the wildlife you're searching for and know the best time of day to capture them. It also wouldn't hurt, he said, to have a zoom lens.
Within Weyburn itself there are also a number of beautiful heritage buildings and other tributes to the city's roots that make creative photo subjects. One such tribute is a statue dedicated to former Saskatchewan premier Tommy Douglas, who is credited with introducing socialized medicine to Canada. The statue's unveiling in 2010 was attended by Douglas's famous grandson, actor Kiefer Sutherland.
Take the 12-stop Crocus Tour, where you can visit the Baptist church where Douglas once preached, now turned into a community theatre. Other highlights include author W.O. Mitchell's former residence, Weyburn's courthouse and water tower.
Despite its southerly location, Weyburn is a good place to take pictures of the Northern Lights, though Gillies suggests a camera that will allow a time delay. Be sure to include some interest and depth in your composition by adding something into the shot's foreground, he said, just as you would with a sunset photo.