RVing in Wetaskiwin is always an adventure
Wetaskiwin's attractions include art galleries, museums and thrill-seeking opportunities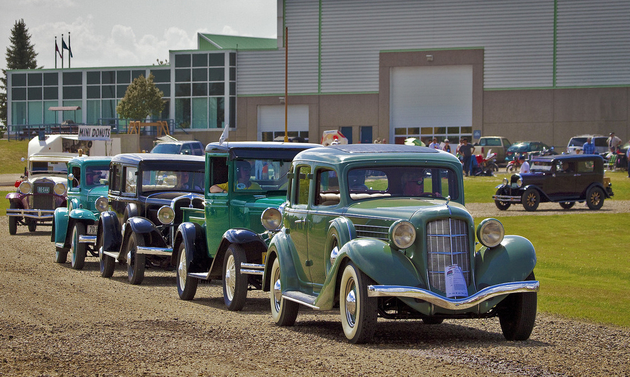 Wetaskiwin is situated about 70 kilometres south of Edmonton, and it's become increasingly popular as an RVing destination. You can find historical collections, arts and culture exhibits, and much more in this bustling little Alberta city.
Get artsy
Wetaskiwin has a number of galleries and other sites of artistic and cultural interest. The Wild West Gallery in Wetaskiwin Mall sells one-of-a-kind First Nations crafts, blankets, beadwork and other treasures. The Caelin Art Gallery features photos by Leon Strembitsky, and you can also find murals, watercolours, oils, and music created by Colleen McGinnis. Dalcon Visual Arts is another choice for checking out local talent, or you can visit the Wetaskiwin Allied Arts & Crafts Centre and learn how to create your own masterpiece.
If you prefer to take in some live performances, find out what is happening at the Manluk Theatre during your stay. Depending on when you go, you can see comedy acts, musicals and even open-mic nights.
Take a step back in time
The Reynolds-Alberta Museum might just be Wetaskiwin's most famous attraction. Learn about all the technological changes in transportation, aviation, agriculture and industry. The museum has received international awards for its exhibits.
Right next door, you can take a tour of Canada's Aviation Hall of Fame. This intriguing facility educates vistitors and honours the brave individuals who played integral roles in Canada's aviation history.
The Wetaskiwin & District Heritage Museum is another must-see. Located downtown, this museum offers three floors packed with exhibits and hosts community events on a regular basis.
Finally, make time for a visit to the Alberta Central Railway Museum. The exhibits here highlight the history of train travel in Canada and the building of the railroads. Guests can even take a ride in a restored 1926 first-class passenger car!
Get your adrenalin pumping
If you are looking for something a little more adventurous, Wetaskiwin has plenty to offer. The Edmonton International Raceway (located in Wetaskiwin, despite the name) allows guests to take a 10-lap stock car test drive on the track, so you can feel the thrill of the race firsthand.
Feel like catching a wave? You heard me correctly—you can learn how to surf even in a prairie community like Wetaskiwin. Head to the Manluk Centre to try out their pool with Board Rider wave-generating technology. An expert is on hand to assist and instruct new users, so you will be in good hands.