A modern-day pioneering spirit
Where the love of the land and development shake hands
by Dan Williams —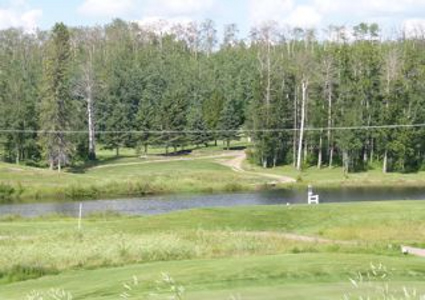 Dorchester Ranch RV & Golf Resort is an awesome one-stop permanent home for your RV, whether you're a retiree or a family with children including teenagers. A spectacular 270-acre spread located in central Alberta only minutes from the Village at Pigeon Lake, Dorchester Ranch RV & Golf Resort is nearing the completion of 165 fully serviced residential-sized lots with no strata or condo fees.
The Dorchester name is well known within chuckwagon racing circles world wide. The family with six world championships and five Calgary Stampede wins; exemplifies the true western pioneering spirit. The golf course is also typical of the Dorchester determination and drive. Built by the family, the first nine holes were opened in 1988, with the following nine upgraded in 2005. The resort has hosted numerous celebrities, including PGA tour winner Chi Chi Rodriguez.
The resort is owned and operated by Lil and Gord Dorchester and they have partnered up with Mountain Shores Land Ventures Ltd to develop the RV resort. The family set out to build a resort that reflects their love of the land and create a lay out that speaks to an active, fun and friendly atmosphere. On-site amenity highlights include a geothermal-heated splash park and pool for the kids, a fireside lounge, a gym, a community hall with a full kitchen, a tennis court, an outdoor theatre and walking trails through a 16-acre natural park.
While on the golf course, sitting by the fire, or taking a stroll through the undulating terrain, you might have a chance to strike up a conversation with chuckwagon race stars Troy Dorchester or Rick Fraser.
For unique shopping experiences, restaurants, beauty salons and other needs, the Village at Pigeon Lake is only 10 minutes away. Boating, fishing and relaxing on the beach are also near by at Pigeon Lake or Ma-Me-O Beach.
So if your pioneering spirit is seeking a place to put your hat, Dorchester Ranch RV & Golf Resort offers a new and refreshing way to set up your new RV homestead.