Top things to see and do in West Yellowstone
A small mountain town with some big, bold scenery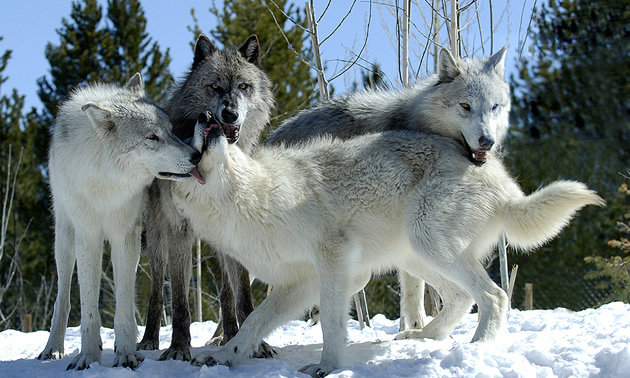 West Yellowstone is a small Montana town located high in the valleys of the Gallatin Mountains and is surrounded by national forests and Yellowstone National Park. Not only does West Yellowstone offer a beautiful setting, but with over 12 commercial RV parks as well as numerous forest service campgrounds, it is definitely RV-friendly and there is plenty to do in both the summer and winter.
1) Yellowstone Park
Enter Yellowstone Park's west entrance and explore this amazing world of geysers, wildlife, and scenic rivers. Want to park your RV and still explore Yellowstone? There are a number of local tour companies offering daily tours of Yellowstone and Grand Teton National Park. The Linx cooperative offers daily bus services from West Yellowstone into both parks. During the winter, West Yellowstone offers daily snowmobile and snow coach tours for an adventure into the wintry wonderland of Yellowstone's interior.
2) Grizzly and Wolf Discovery Center
This nationally accredited wildlife sanctuary features two wolf packs and eight grizzlies (including a pair of cubs). The center is open 365 days a year and these grizzlies don't hibernate. Indoor displays, outdoor exhibits, naturalist talks and movies are also offered.
3) Trout galore
Forbes magazine nominated West Yellowstone as one of the top 10 trout towns in the U.S. In addition to rivers in Yellowstone, outside the park are some of the country's top trout streams: the Madison River, Gallatin River, Yellowstone River, and the Henry's Fork of the Snake River. Some of the best float and deep-water trout fishing is available on Hebgen Lake and Earthquake Lake as well as Henry's Lake and Island Park Reservoir. All are a short drive from West Yellowstone. Several marinas offer docks as well as boat rentals and fishing supplies. Even non-U.S. citizens can rent equipment and fish in Yellowstone Park.
4) Small town events and festivals
West Yellowstone offers up a wide variety of events and activities layered with a dash of hometown charm. Summer brings weekend rodeos, nightly plays and performances, a small town Fourth of July celebration, an authentic mountain man rendezvous, square dancing and much more.
5) Play in the national forests
You can find your passion in the national forests surrounding West Yellowstone no matter what your age or experience. Bird watching, photography, hiking, mountain biking, ATV riding and boating are all available, with local businesses offering rentals and even guides. In the winter you can traverse hundreds of miles of groomed or back country trails on cross country skis, snowshoes or snowmobile. Local businesses rent equipment, clothing and guides.