An adventure back in time
Swansea was an active copper mine from 1904 to 1943
by Jena Jones —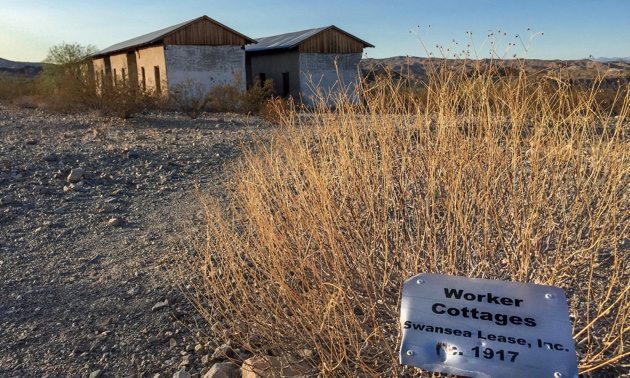 Just 40 kilometres (25 miles) east of Parker, Arizona, an adventure back in time awaits. The rugged and remote remnants of a bygone era are just waiting to be explored by history buffs, hikers, off-roaders and adventure enthusiasts alike.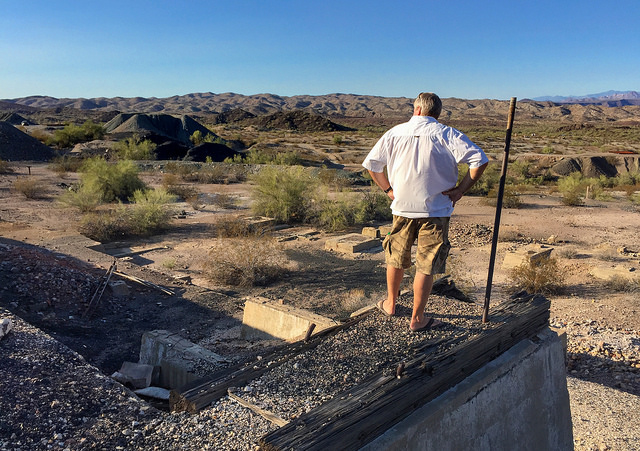 While we doubt you will see actual ghosts, the Swansea ghost town hosts a plethora of rich history, numerous structures, an interpretive self-guided tour, five designated campsites and a slew of old mining stories hidden beneath the rubble of collapsed buildings and endless mine shafts.
The drive in from Parker was dusty, long and bumpy but absolutely worth it. The terrain changed from barren desert land to jagged red mountains, lush ocotillos and saguaros half way through our trek. We went over an aqueduct and through a small mountain range (with very narrow roads) that made the journey of getting there part of the adventure.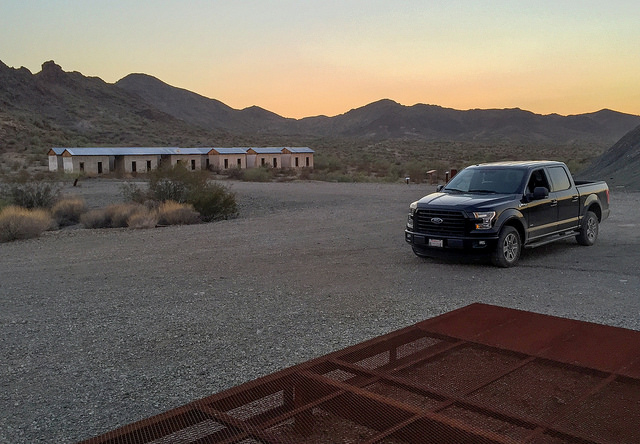 Copper ore and more
Swansea was a mining town known for processing and smelting copper ore. Although the town was short lived, it processed over 27,000,000 pounds of copper between 1904 and 1943 (when the mills were officially shut down).
The town got its namesake from the original owner who was from Swansea in South Wales, U.K., and where most of the copper was shipped after processing.
Prospectors originally found interest in Swansea in 1862, but it wasn't until 1886 that miners found silver lead. Unfortunately, the silver ran out quickly and the miners had no interest in the "worthless" copper that was left over. By 1904 new owners purchased the claim and developed the copper mines to work in conjunction with the new Arizona-to-California railway that would connect Swansea to the nearby town of Bouse, Arizona.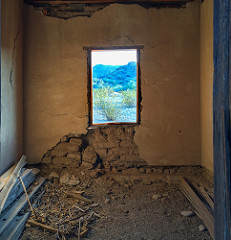 By 1909 Swansea had a post office and the first train barreled into town in 1910. Swansea is much larger than many other abandoned ghost towns we have visited. In its heyday, there were 750 residents, a car dealership, lumber company, two cemeteries, a saloon, a moving picture house, general store, insurance agent, justice of the peace and its own newspaper, the Swansea Times. The town also had indoor plumbing and electricity which were innovative luxuries that most of the country did not have during that time. Sadly, the Great Depression took its toll and the mining town never boomed again.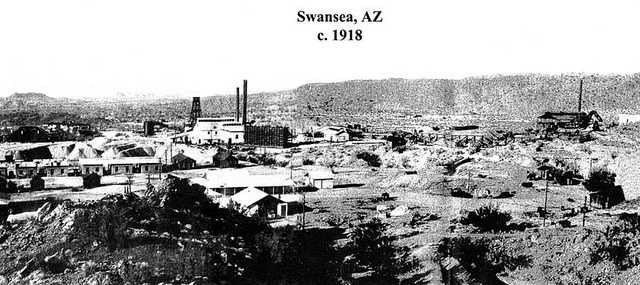 Notable edu-tourism
We are consistently in awe of the history and natural beauty that the state of Arizona has to offer. Perhaps that's because Arizona is known for its abundant ghost towns, with over 350 documented abandoned settlements. Many are on public land and have fallen victim to earthquakes, rock slides, high winds, erosion, flooding, as well as plant, animal and human damage. Not to worry though, because the town of Swansea sits protected among Bureau of Land Management land and even received Arizona's Heritage Prestigious Award for "Outstanding Educational Project" when they set out to restore the area in 1996. The project included restoring or adding roofs, fencing and heavy-duty iron grates over mine shafts as well as a highly informative and educational interpretive trail and maps for visitors.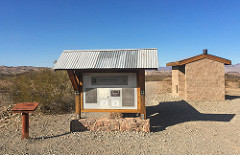 What's left of Swansea is chronicled in plaques and educational brochures. The only inhabitants now are the adorable kangaroo rats, lizards, snakes and hairy tarantulas that now call this place home.
We navigated the long road in with a two-wheel-drive pickup truck, but beware of bad weather and road washouts and be sure to bring plenty of food and water since you are literally stepping back in time to a place with no stores, no civilization and no cell phone service.
In the middle of nowhere you will find yourself back in time in a picturesque setting, surrounded by old adobe and brick structures, rusted vehicles and dangerous mining shafts. From an adventurous day trip to an eerie overnight experience, Swansea is a must-see destination.