Horses, heritage and gold fever
Here are the top three things to see and do along the Gold Rush Trail in the Cariboo Chilcotin Coast region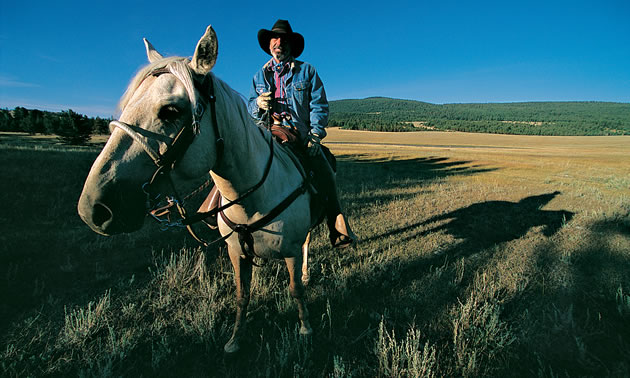 The mule trains, freight wagons and lonely faces of miners making their way north to the gold fields are long gone, but RVers can still trace the footsteps of their 1860s counterparts by travelling B.C.'s fabled Gold Rush Trail. A large portion of it runs through the Cariboo Chilcotin Coast and if travellers begin the journey at Lillooet, it will take them through some of the prettiest and most diverse landscape this region has to offer. And there is plenty to see and do along the way. Here are three possible options:
Spend a day in Clinton
What was originally a roadhouse in the 1860s has become the leather-tough ranching community of Clinton. Also known as the Gateway to the Cariboo, Clinton is home to a wide array of historic homes and buildings. Starting at the Clinton Museum, visitors can tour the town on foot or take a drive around the surrounding area. About 50 minutes northeast of Clinton is the Big Bar Guest Ranch, a historic cattle ranch that offers activities, such as horseback riding, hiking, biking and even archery lessons. No visit to Clinton would be complete, however, without stopping at the Clinton Emporium. Just about any kind of western artifact can be found in this antique shop.
"It's one of the most amazing places to stop and check out," said Tanya Wong, project manager for the Gold Rush Trail.
Visit a photo gallery
Chris Harris is a professional freelance photographer and book author who has spent his entire life photographing the Cariboo Chilcotin Coast. His photos have appeared in National Geographic and Canadian Geographic magazines. Harris and his partner, Rita Giesbrecht, are based at 105 Mile Ranch, just north of 100 Mile House, where they have a studio gallery that is open year-round to the public. Travellers can call before they arrive or just chance it and hope that Harris and Giesbrecht are around. They also offer one-day photography seminars and three-day workshops for those looking to benefit from Harris's years of experience. To register, go to the website.
Do what the prospectors did
On the road to Wells and Barkerville is Cottonwood House Heritage Site.
"That's a really nice stop," said Wong.
One of the most famous roadhouses along the Cariboo Wagon Road, Cottonwood House was built in 1864. Almost 100 years later, it was purchased by the Province of British Columbia and designated a Provincial Heritage Site. Today, it operates much the same as it did back in the late 1800s, providing food and accommodation to weary travellers. Guided tours of Cottonwood House are included in the price of admission and visitors can check out the old barns, guest house, candy shop and general store. There is also a root cellar that Wong said is the most amazing root cellar she's ever seen.