Top 5 things to see and do near Watrous
Watrous is a quaint Saskatchewan town with vibrant attractions to entice RVers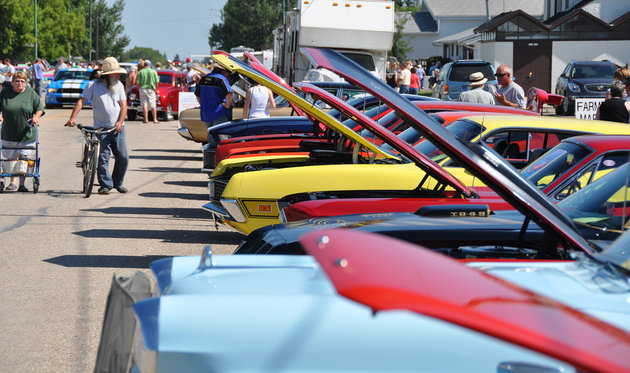 A friendly prairie community with a great deal to offer, Watrous is a prime location for a Saskatchewan holiday. These are a few of the top attractions in Watrous and nearby Manitou Beach.
Held each year in July, the Watrous & Manitou Beach Fun Run Auto Show and Shine is an event that attracts classic auto lovers and their families. In addition to the impressive vintage cars on display, the show includes antique tractors and trucks, motorcycles, hot rods and more. There are also family-friendly attractions, such as dog agility shows, mascots, clowns and other entertainment.
The Fun Run is in its 26th year as of 2017, so it will no doubt be a community staple for many years to come.
Built between 1928 and 1930, Danceland is a famous hall with a hardwood dance floor that floats on top of six to 10 inches of horse hair. This feature made dancing on it a dreamy experience—hence the crowd of more than 500 people who used to gather here on a regular basis. Back in the 1930s, it cost 10 cents per dance, or you could get three dances for a quarter.
Danceland is open year-round to the public, so you can see the beautifully preserved architecture and dance the night away like it was in the good ol' days.
To learn more about Danceland, check out this article.
The Jubilee Drive-in is one of only three drive-in movie theatres that still exist in Saskatchewan (and one of few left in North America). You can choose to either sit in your car and watch movies under the stars or go into the 24-person indoor theatre, which often shows old movies on 35-millimetre celluloid film.
The Jubilee Drive-in is open on weekends from May through October, and Thursday to Sunday during July and August. You can find it on Highway 365 at Manitou Beach.
Manitou Beach is known for its healing mineral waters, so the local spa focuses on those therapeutic benefits. At Manitou Springs Resort and Mineral Spa, you can choose between three mineral pools, which filter lake water and heat it to 34 to 38 C (94 to 100 F).
After a good soak, you can get something to eat at the on-site restaurant or pamper yourself with one of the numerous spa treatments available.
Just south of Watrous, you can take a day trip to Last Mountain Lake National Wildlife Area. Bring your camera and get some memorable shots of local wildlife, as you experience North America's first federal bird sanctuary (established back in 1887).
When you arrive, you can make use of the self-service information kiosk and take a walk on the interpretive trails, which lead to a floating dock, bird blind and observation tower. If you don't wish to explore on foot, you can also canoe or kayak in this area.
For more information about Last Mountain Lake, check out this article.