Art and nature combine beautifully in Watrous and Manitou Beach
Watrous and Manitou Beach are home to many visual artists, and their varied works enhance the life of the community.
by Karen Kornelsen —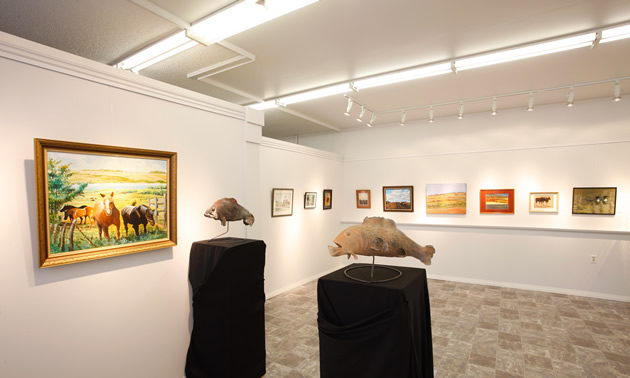 The communities of Watrous and Manitou Beach, Saskatchewan, are just a few kilometres apart, and both have a passion for art. The two communities, with a population of just 2,000, have a substantial artistic community, with close to 50 visual artists living in a 50-kilometre radius.
Brendan Manz is the community development officer for the Watrous Manitou Marketing Group. He said the arts are an essential part of the community.
"We have one of the longest running studio trails in the province," said Manz. "More and more people take advantage every year. There is a niche for this and people from across Saskatchewan and other provinces make it a stop, whether it's a destination or if they're travelling through."
The Gallery on 3rd is located in Watrous and features exhibits by artists from the local area as well as across Canada and around the world. It also features exhibits from Arts on the Move, a feature of the Organization of Saskatchewan Arts Councils. The gallery is open year round, with extended hours from May to September.
For those visiting Watrous and Manitou Beach on July 4 and 5, 2015, there's an exciting event happening called Spirit of Manitou. This "Studio Trail" showcases the work of local artists and artisans, often at their home studios. Part of the fun is travelling to each destination, taking in all the beauty Saskatchewan has to offer. There's a passport with a map to direct you to all the stops on the tour.
Manz said it gives the community a chance to really focus on their many artists.
"The artists here are a special group and they do a lot for the community," he said. "It's a great opportunity for them to showcase their work. There's some really unique stuff on the trail."
Every summer from mid-June to the end of August there is a farmers' market on Main Street in Watrous on Saturdays from 9 a.m. to noon. There's also a flea market held at the sports grounds at Manitou Beach, adjacent to the regional park campground, which is a big hit for campers on Sunday mornings throughout the summer.
"We have upwards of 40 exhibitors that come to the flea market in high season on any given Sunday," said Manz. "Some come from as far away as Swift Current to promote what they have. There's some really unique stuff there and people really enjoy it."