The romance of a harbour city
Explore Victoria on foot, in a carriage or by water taxi
by Sandra Albers —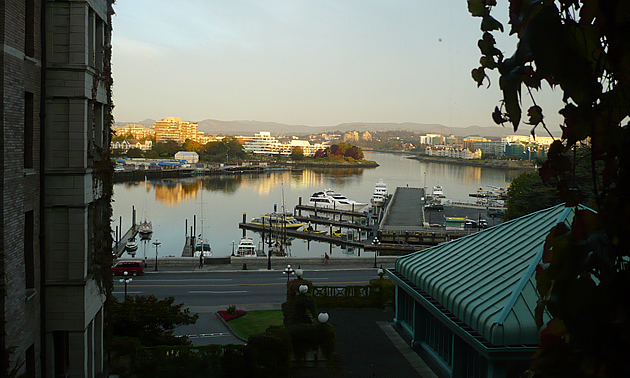 If you bring your RV to Vancouver Island, a day trip into Victoria—British Columbia's capital city—is a must. And even if you don't plan to stay overnight, a visit to the city's storied Fairmont Empress Hotel should not be missed either.
Any harbourfront city lends itself to romance, and Victoria is no exception. With its compact downtown core and the mildest climate in Canada, Victoria is an eminently walkable city. The inner harbour is made for strolling, and the lovely Beacon Hill Park is just a short walk away.
When you tire of walking and need some refreshment—a meal or maybe just a "cuppa"—there are plenty of choices; in fact, Victoria has the second highest number of restaurants per capita in North America (San Francisco is number 1), according to Tourism Victoria.
If you don't get any farther than the Fairmont Empress, where I enjoyed a short stay this fall, you'll still have a memorable experience. With its ivy-clad exterior and Edwardian-era architecture, the Empress is a thing of beauty and grace.
Dining in style
The Empress has some wonderful dining choices.
The Empress Room, with its handcrafted wood ceiling, is truly elegant. The dining room operates on a "farm-to-fork" philosophy according to the hotel's website, and pairs its rich regional cuisine with an extensive wine list.
Then there's the exotic Bengal Lounge, where the colonial decor is inspired by Queen Victoria's role as the Empress of India. It is renowned for its authentic curry lunch and dinner buffets, coupled with a signature martini menu. Legend has it that Bing Crosby was once refused admittance to the Bengal Lounge for lack of a tie (he was visiting Vancouver Island for the fishing), but the dress code is a bit more relaxed now. Today's dress code is described as "casually elegant"—just don't come in torn jeans, short shorts, cut-off pants, beach wear, flip-flops or baseball caps! With live jazz featured on Friday and Saturday nights, who wouldn't want to dress up a bit for the Bengal Lounge? There's something to be said for puttin' on the ritz, especially if you're with your beloved.
Of course, a visit to the Empress is not complete without indulging in afternoon tea, a tradition that dates to 1908. Be forewarned—it's not cheap—$59.95 per person, to be exact. But, hey, you only live once, right? And there is a special rate for seniors 65 years and older during November 2012's Tea Month, when the price drops to $37.95 per person.
If you do decide to indulge in a "cuppa" of the Empress special blend of tea, expect it to be accompanied by handmade signature Empress scones, along with pastries and tea sweets that reflect locally sourced ingredients from the Pacific Northwest and are prepared in-house daily. Impeccable china and sterling silver service and live piano music in the background ensure that afternoon tea at the Empress is a magical experience.
How many cups of tea are served at the Fairmont Empress Hotel annually? Well, estimates range from 500,000 to 750,000 (depending, perhaps, on how many refills guests enjoy!), but whatever the number, all those people can't be wrong.
Notable afternoon tea guests over the years have included Queen Elizabeth II and her sister, Princess Margaret, as well as Rudyard Kipling, Shirley Temple, Spencer Tracy, Rita Hayworth, the King and Queen of Siam, John Travolta, Barbra Streisand, Sarah McLachlan and Nelly Furtado. Don't you want to add your name to the list?
Walking it off
One way to justify all this epicurean indulgence is to follow it up with a brisk walk—or at least a meandering stroll. The entrance to Beacon Hill Park is a mere 10-minute walk from the Empress, so it's the perfect destination.
This gorgeous park includes a children's farm complete with friendly goats in the petting area, landscaped gardens and playing fields. But a good deal of native flora has also been preserved. As you amble around Beacon Hill Park, you'll see such species as Garry oak, arbutus, Douglas fir, western red cedar, camas, trillium, snowberry, Oregon grape and fawn lily.
The ponds in the park are home to swans, turtles, ducks, Canada geese and blue herons. You might also spy some raccoons, river otters or squirrels.
In the middle of the park, the Cameron Bandshell hosts concerts from June through September. And there is a notable totem pole carved by Kwakwaka'wakw craftsman Mungo Martin. According to Wikipedia, it was the world's tallest when it was erected in 1956, and is now the fourth tallest totem pole.
The park's name, by the way, derives from the two navigational beacons that once stood on the hill overlooking the Strait of Juan de Fuca. The westernmost one featured a blue triangle and the other one a green square. Apparently, if a sailor could see the square through the triangle, he was in perilous territory.
Victoria's downtown itself is also a fine walking area. There are a number of guided heritage walking tours, and brochures are also available on self-guided walks. Garden tours, whale-watching expeditions and several carriage tours are other options in Victoria. There are even Ghostly Walks and cemetery tours, or you might fancy a walking tour of Chinatown. And free guided tours take visitors through the B.C. Parliament Buildings, where the Legislative Assembly of B.C. meets; be sure to view "the Leg" at night, too, when it is beautifully lit up with some 3,333 lights.
Details on all of these tours are available from the Tourist Information Centre, located conveniently close to the Fairmont Empress Hotel.
Tired of all that walking? One more way to enjoy Victoria's harbourfront is to do what the locals do—hop on a mini ferry or water taxi and enjoy a fresh perspective on this most romantic of cities.