Culinary celebration in Victoria
The city of Victoria is full of delectable eating and the chance to discover Vancouver Island through food.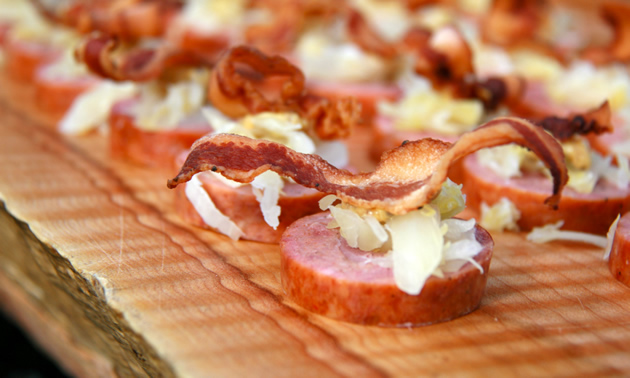 There are plenty of typical tourism musts to experience in Victoria, from afternoon tea at the Empress Hotel to a sweet treat at Rogers' Chocolate. However, Kathy McAree, owner of Travel with Taste and a culinary expert on Vancouver Island, can tell you about plenty of lesser-known delights waiting to be discovered.
"Victoria has a really energetic group of chefs and many local farmers and suppliers that work together," said McAree. "I think it's their willingness and the extra effort that they go to that really makes our area different, that makes it special."
A few favourite things
A stop at Silk Road Tea, just a few steps from the gates of Chinatown, will be a memorable experience for anyone who appreciates a good cup of tea. This shop, run by tea master Daniela Cubelic, holds a tea bar, spa and an abundance of fine organic teas. Workshops and tea tastings are frequently held at Silk Road Tea, with free events happening every weekend. This is one excellent way to experience Victoria's tradition of tea.
Another essential Victoria dining experience should involve trying local seafood. Whether it's a multi-course dinner at Camille's or a local tuna tacone at Red Fish Blue Fish, options are everywhere. For those who want to try their hand at making their own seafood dish, McAree suggests Finest At Sea for completely local and sustainable products. One location is near the Victoria dock.
In fact, McAree's own favourite local food experience involves taking seafood home.
"I absolutely love, during halibut season, to pick up a piece of halibut and prepare it at home," she said. "I also go to the market and get some local veggies and, to me, that is so simple. Halibut needs very little seasoning and neither do the vegetables. It's wonderful to be able to take home the raw products and easily cook them into something that is gourmet. It is so flavourful. I often will simply pan fry (the halibut) or even just sear it on one side and finish it in the oven."
Of course visitors might want to consider some of the area's wonderful local wines. With over 40 licensed wineries on Vancouver Island and the Gulf Islands, there is lots to try. Butchart Gardens' dining room, suggests McAree, is a great place to visit, even if just for wine by the taste.
Surprising delights
And what is an unexpected part of the Victoria food scene that shouldn't be missed?
"I think our bakeries are outstanding," said McAree. "You can go to the more modern niche bakery that is using ancient grains or creating things in a wood fired oven. Or you can go to the Dutch Bakery on 4th Street that's been around for more than 50 years where there's (three) generations of the Schaddelee family all working together using the exact same recipes that they've been using all along."
Victoria's culinary scene offers something for everyone. Exploring it is more of a question of how, rather than if. McAree has found that her passion for food and her own backyard has helped her, and others, celebrate life and her Island.
"Imagine yourself going to a party where everyone ends up in the kitchen," she said. "All the best things happen around food and around the celebration of eating and drinking. I get to celebrate every day in what I do."