Vernon, B.C., is the place to be to see three venues deemed worthy
An eclectic array of sounds are emanating from the North Okanagan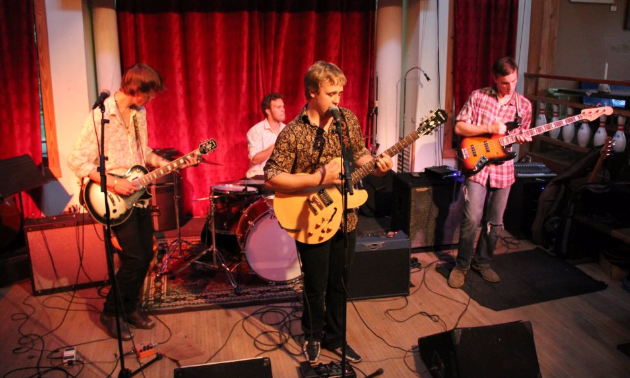 The North Okanagan is a beautiful place to spend your summer. The sights and sounds of summer worth checking out range from a record store to a Greek café to the open air of downtown Vernon. Open your ears at these three destinations and you'll be humming along in no time.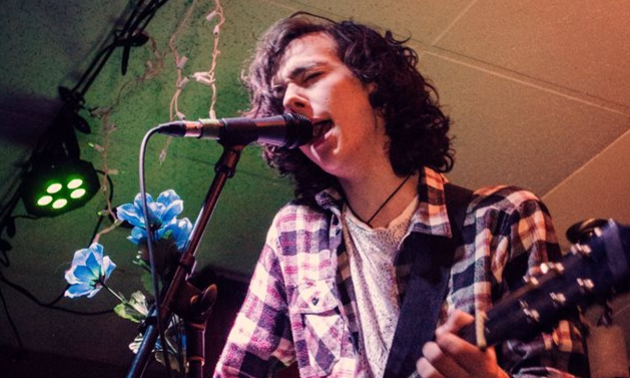 Record City
If you prefer your live music to be surrounded by nostalgic memorabilia, Record City is up your alley. Record City is a new all-ages venue in downtown Vernon. The compact location fits up to 130 people with about 30 to 70 people showing up regularly to check out what's going on. Record City hosts one to two shows a week and they typically cost about $10. They've hosted hundreds of acts from Juno nominees to the newest Canadian hometown garage bands and every genre imaginable. The eclectic selection isn't exclusive to the bands that perform there either; Record City—as you may have guessed—has a ton of records. Once inside, you'll find a large second-hand music selection of CDs, tapes and vinyl records alongside instruments, amps, speakers and turntables. You can even grab a bite to eat at the in-store café while you peruse the selection of wares.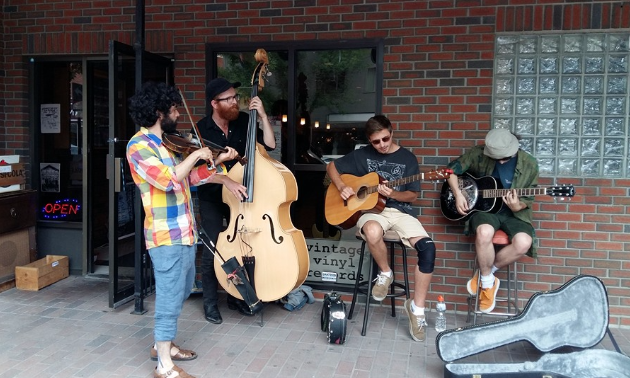 Lorenzo's Cafe
Head north on Highway 97A into Enderby to find Lorenzo's Cafe, the "best live music venue in the North Okanagan," according to Okanagan Life magazine. Lorenzo's Cafe is a hub of local artistry and culture packed inside a beautifully restored and renovated heritage schoolhouse. The first sights to catch your eye when entering Lorenzo's Cafe are the high ceilings and the dance floor—both of which enhance the stellar acoustics and welcoming atmosphere. The café host's a vast array of formats such as jazz, blues, folk, country, rock and Celtic musicians, belly-dancing-plate-smashing Greek nights and dinner theatre. Speaking of dinner, Lorenzo's Cafe serves up dishes like lobster, ribs and kebabs—bring your appetite for mouth-watering nourishment to go along with the toe-tapping music you're yearning to dance to. During show nights, dinner begins at 6 p.m. with the music starting at 8 p.m. Lorenzo's Cafe hosts shows about two to three times per week throughout summer and the cover usually costs $10 to $15 per show. An outstanding lineup of world-class musicians tucked away in the North Okanagan woods—mamma mia, you'll be missing out on a fantastic time if you skip Lorenzo's Cafe during your North Okanagan stay.
Civic Sounds
Downtown Vernon is the place on Thursday nights this summer. Civic Plaza hosts Civic Sounds—free outdoor concerts every Thursday from July 6th to August 24th. Anticipate two hours of family-friendly entertainment from 7 to 9 p.m. Listening to jovial tunes while taking in an Okanagan sunset is a sure way to create lasting memories that you'll be able to take with you beyond summertime. Snuggle up to your sweetheart or swivel your hips to the groove anywhere you desire throughout the Civic Plaza's landscape. Bring a fold-up chair for maximum comfort or a blanket if you wish to have a picnic in the park.

There are a few Thursdays this summer that are even more special than the rest. July 27th sees The Young'uns take the stage, but before they do, a special Okanagan Military Tattoo pre-show will begin at 6:30 p.m. The night is also the first of two Civic Sounds concerts for a cause in support of the Salvation Army.

Expect to see a lot of candles being blown out on August 10th. Vernon is throwing a 125th anniversary barbecue that day while the Shawn Lightfoot Band keeps the party going well into the evening.

The final show of the year is the second effort to support the Salvation Army. On August 24th, 6 Shades of Gray will be wrapping up downtown Vernon's Civic Sounds.

Summer never sounded so sweet. The tune of Vernon is one that you'll want stuck in your head after you've departed your Okanagan vacation.