VanDusen magic
Soothe, satisfy and inspire the soul with a visit to VanDusen Garden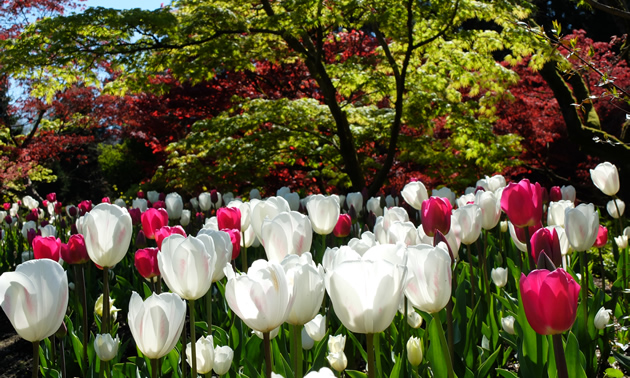 At the corner of Oak Street and West 37th Avenue, in the heart of the bustling, hustling metropolis of Vancouver, lies a 22-hectare (55-acre) oasis of calm and beauty called VanDusen Garden. The area was earlier cultivated as a golf course, and in the 1960s plans were made to turn it into a housing development. At the energetic prompting of a group of citizens and the Vancouver Board of Parks and Recreation, however, those plans were changed.
Thanks to the vision of those instigators and the financial support of three funders—the Canadian Pacific Railway, the City of Vancouver and W.J. VanDusen, who each contributed $1 million—the property was transformed into an expansive botanical garden. VanDusen Garden became a reality and opened to the public in 1975.
Visually, the garden is an extravagant feast for the senses and the imagination. Along with 7,500 plant species, the garden contains sculptures by international sculptors, an Elizabethan hedge maze, a stone garden, a Korean pavilion, a meditation garden and many other features.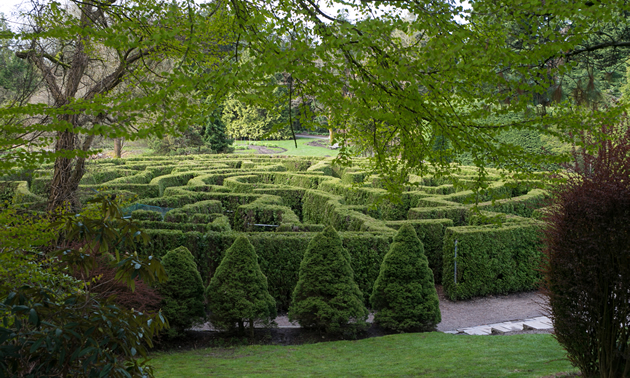 Visitors may choose guided and self-guided tours to acquaint them with the garden's offerings. They may opt to join the monthly guided bird walk to observe the many free-flying birds, and to linger at the garden's water features to look for assorted turtles.
A meander through the garden is a joy, full of colours and fragrances and the sweet sound of birds and flowing water. The structured tours provide fascinating information about the plant collections in the black garden, the fragrance garden, the giant prehistoric rhubarb, the rare Wallami Pine, giant redwoods and a formal rose garden, among other offerings.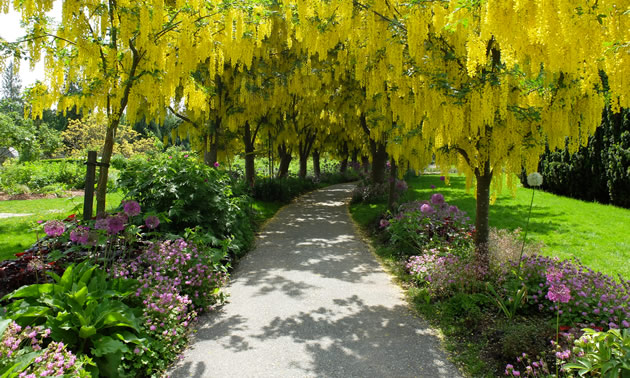 The VanDusen Garden website has a bloom calendar for anyone who wishes to see particular plants at the peak of their colourful beauty. The site also provides information about special interest lectures, courses, exhibitions and events.
VanDusen Garden is open year round, and the artistry of its displays of coloured fairy lights from December 1 to January 6—except for Christmas Day—makes a wintertime visit uniquely enchanting.