Sea to Sky Hikes in Vancouver, B.C.
Choose from leisurely strolls along Vancouver's seaside, or moderate mountain climbs just outside the city
Vancouver offers both the benefits of buzzing city life and the salty breezes of easy coastal living. With mountains literally rising up from their backdoor, and the beautiful port and inlets lining the other side, outdoor activities for locals and visitors are not hard to come by. Aside from the favourites we've chosen, Vancouver provides walkers and hikers with more to explore: Quarry Rock in Deep Cove for a quick morning jaunt complemented by beautiful views; the Grouse Grind for a naturistic Stairmaster workout; or the Capilano Canyon for an easy stroll across streams and between the trees, all while chasing waterfalls.
Seawall at Stanley Park
This location is a double-dose of salty air and urban greenery rolled into one immaculate park near Vancouver's downtown. Filled with gardens, trees and grassy openings just begging for an afternoon picnic, Stanley Park is a green oasis that visitors flock to year after year. The Seawall walking trail meets up with Stanley Park for a 10-kilometre loop around the outskirts. "You're along the waterfront the entire time," said Saschie MacLean of Tourism Vancouver. Some choose to walk the whole loop, while others head for their favourite bit of coastline to picnic under the trees.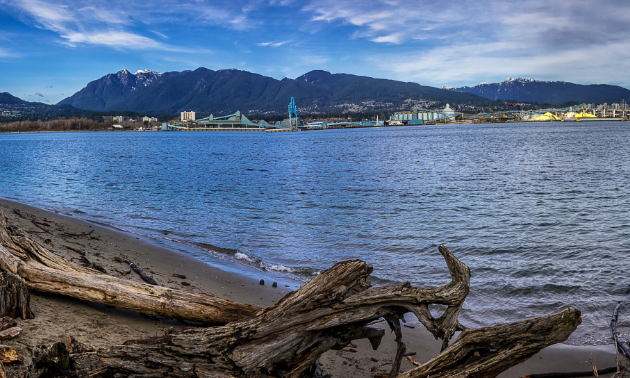 The Seawall is accessible to anyone who wants to walk, run, roll or ride around Stanley Park. The trails are paved and kept clean at all times. The park itself is family friendly, with pools, a water park and a small train running through to entertain the kids.
For those looking for an educational and active outing, Talasay Tours offers a walking tour of Stanley Park. "That particular tour is guided by someone with a First Nations background," said MacLean. As walkers explore the park, the guide explains the qualities of nature that have affected the First Nations group of the area—essentially, how that exact land was used as a resource.
Trailhead: Scattered parking locations along the Seawall, as well as within Stanley Park
Difficulty: Easy
Website: http://vancouver.ca/parks-recreation-culture/seawall.aspx
Stawamus Chief
"It's not for the faint of heart," said MacLean about the Stawamus Chief, located just an hour from Vancouver in the town of Squamish. This 11-kilometre hike with a 600-metre elevation gain is a lot more challenging than a stroll along the Seawall, but the summit is worth the literal trek. "You get an amazing view of the inlets from the top," MacLean said. Views from its peak overlook Howe Sound and the mountain ranges of Garibaldi Provincial Park.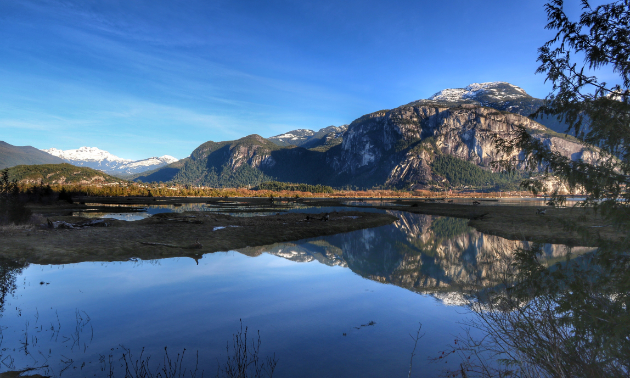 "I would say, conservatively, it takes about four hours," said MacLean. "It's definitely more of a challenge that involves climbing and using ropes at some points." The roped sections are not full-fledged rock-climbing, but steep areas, or points with high ledges to ascend. MacLean advised that hikers don't bring their fur babies on this hike, unless they plan to carry them through the rough points. However, the climb branches into three peaks, so even those who choose to turn back early can still get a glimpse of the fantastic views below.
The trail itself is moderately easy to navigate and clearly marked. The summit opens to a wide expanse of smoothed rock where climbers rest before their descent. A backside trail offers new challenges through forests, and a side trail promises the reward of a glimpse at the towering Shannon Falls—one of British Columbia's largest waterfalls.
Despite the drive and almost a full-day commitment to hike up and down, the Stawamus Chief trails are a popular choice—especially on weekends. Arrive early to avoid the afternoon sun, and the crowds. For hikers less inclined to ascend a challenging trail, the Sea to Sky Gondola located just next to the Chief offers similar views from its viewing platforms.
Trailhead: In the Chief parking lot off of Highway 99, Sea to Sky Highway
Difficulty: Moderate
Website: https://www.vancouvertrails.com/trails/stawamus-chief/