Capilano: Vancouver's bridge of suspense
Suspend your fears and cross this iconic bridge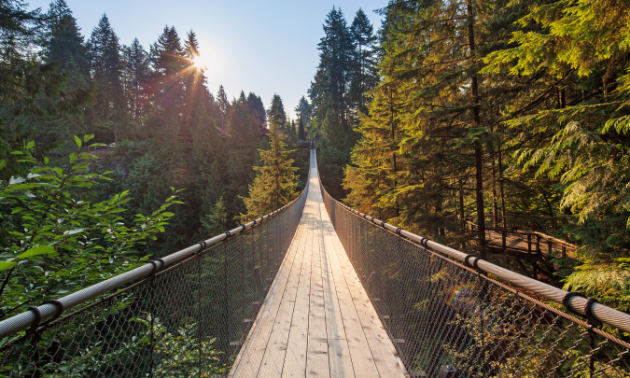 Don't look down!
Actually, take a look down. It's quite a view.
Capilano Suspension Bridge, Vancouver's oldest visitor attraction, is a long suspended footbridge spanning 137 metres (450 feet) long and 70 metres (230 feet) high above the Capilano River below. 


Visitors will see all kinds of foliage and wildlife from the dangling overpass. Vancouver's Pacific temperate rainforest, which is where the Capilano Suspension Bridge is situated, gives the park a lush forest full of towering Douglas firs, Western hemlocks and red cedars. Guests can walk around the boardwalks of the forest and spot Douglas squirrels, rainbow trout in the ponds, and the occasional osprey and great blue heron.
Capilano Suspension Bridge Park offers more than just the bridge. The park's surrounding 11 hectares (27 acres) celebrate nature, history and culture.
"Built in 2004, Treetops Adventure was the first attraction of its kind in North America," said Jared Martin, multimedia marketing co-ordinator for the Capilano Group. "Cabled suspension bridges link eight magnificent Douglas fir trees, providing a tree-to-tree tour. At its highest point, Treetops Adventure offers guests a squirrel's eye view from over 33 metres (110 feet) above the forest floor."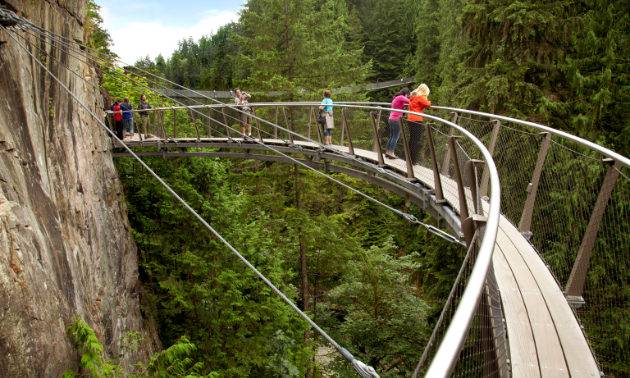 If you've ever wondered what it would be like to live the life of an adorable ewok from Star Wars: Return of the Jedi, this is your chance. "While resembling something similar to an ewok village, John Stibbard, Capilano Suspension Bridge Park's VP of Operations and the third generation to work in the family-owned-and-operated business, brought this original ecological experience closer to home after witnessing a similar concept during his travels abroad,

" Martin said.
"A few years later, after rappelling down the east face of Capilano Canyon into jungle-like ferns and mosses, John Stibbard conceived his plan to give guests a new super-thrilling ecological experience. This idea would later become Cliffwalk. Bridges and stairs, occasionally interrupted by landings and platforms, take guests along the cliff edge to previously unexplored areas of the park."
During the summer season a local group brings rescued birds of prey to the park and gives guests an opportunity to learn the ecological interaction between humans and birds of prey at Raptors Ridge.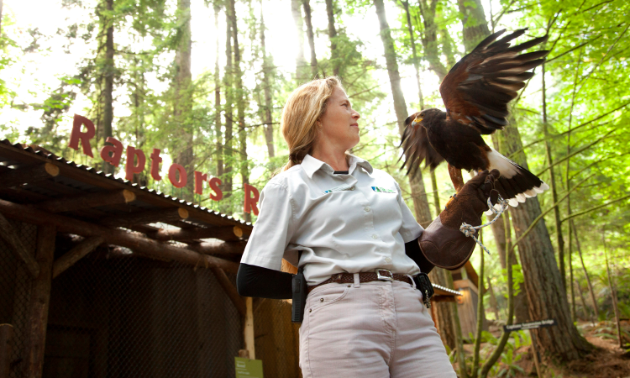 Complimentary history and nature tours, informative signage and interactive human and natural history exhibits throughout the park allow guests a unique experience in nature, all the while protecting the delicate rainforest environment. Several food venues and the Trading Post gift shop round out the visitor experience.
So go ahead, look down and all around. There's plenty to see from the Capilano Suspension Bridge.