Valemount's passionate past
Find out about the pioneers, military heroes and railway history of this B.C. community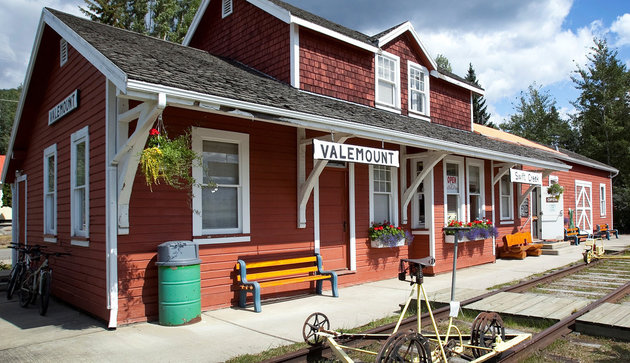 Valemount is a B.C. destination renowned for its outdoor recreation—but it also has a fascinating heritage to share with visitors.
Founded in 1906 and initially named Swift Creek by Fulton Alexander McKirdy, this community really started to blossom in 1914 when the railway made its way through the Yellowhead Pass. By 1927 it was a bustling little town and was given its current name, which means "Valley in the Mountains."
There are several places where you can learn more about Valemount's past.
Open May 15 to September 30, the Valemount Museum & Archives is housed in a building that served as the first train station in town.
The facility has three levels with displays and exhibits on railroad towns, Japanese internment camps, local war heroes and pioneers. There is artwork created by Margaret McKirdy, James Vanslyk and other local artists for your viewing pleasure. In the basement, there is a recreated trapper's cabin, so you can see what early Valemount life was really like. You can even see a restored CN caboose and tour the annex building, which contains logging and farming artifacts.
Recently, the museum also added an Ishbel Cochrane exhibit to pay tribute to Ishbel Cochrane and to educate the public about the Hargreaves Brothers Outfitting Company and the Mount Robson Ranch.
Before you leave, be sure to stop at the gift shop and pick up something to remember your trip by.
Museum hours
May, June and September: Tuesday to Saturday, 10 a.m. - 5 p.m.
July and August: Every day, 10 a.m. - 6 p.m.
Admission rates (cash only)
Adult: $3
Child: $2
Family: $8
* A family includes up to two adults and up to four children (under 18 years old).
Located in the upstairs area of the Royal Canadian Legion Branch 266 (970 Main Street), this moving exhibit includes memorabilia from local heroes who fought valiantly in wars over the decades.
You can see uniforms, books, photos and articles that tell riveting stories of past military tragedies and triumphs. The museum is open during regular legion operating hours, and admission is by donation. To find out more, please call the legion at 250-566-4343 or 250-566-4406.