Waterfalls and dinosaurs in Tumbler Ridge
Tumbler Ridge could be one of B.C.'s best-kept secrets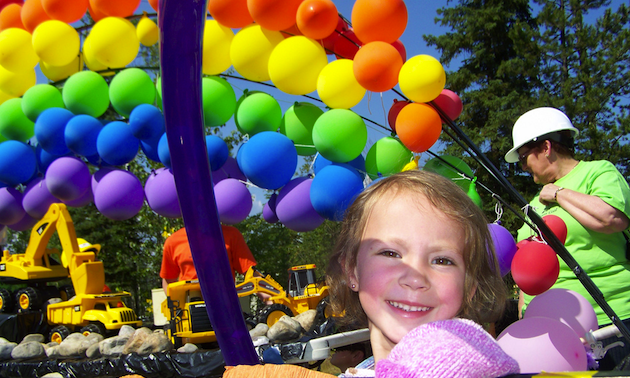 If waterfall adventures, easy hikes and a family-friendly music festival aren't enough to excite kids about a trip to Tumbler Ridge, the dinosaur footprints will surely do the trick.
Kinuseo Falls
There's nothing quite like the way water coursing over ancient rock formations in glistening beauty—and maybe even a rainbow or two—can capture the imagination and spark a sense of adventure.
Joy McKay, program co-ordinator for the District of Tumbler Ridge, said there's no doubt the community lives up to its nickname: Waterfall Capital of the North. Explore cascades tucked away along easy hiking trails, or admire the view of roadside waterfalls throughout the region.
"Kinuseo Falls is a huge tourist attraction," said McKay. "It is higher than Niagara Falls and is located in Monkman Pass, just south of Tumbler Ridge."
At 60 metres high, this natural wonder is an unbelievable sight on the Murray River in Monkman Provincial Park. A short, wheelchair-accessible trail leads from the parking lot to a wide viewpoint at the brink of the falls. Visitors can also take a 1.5-kilometre easy hike to an upper lookout and then down through the forest to view the falls from downstream.
The Cascades also draw hundreds to Monkman Provincial Park each year; this is a series of 10 waterfalls on Monkman Creek, situated just a few kilometres apart along an easy hiking trail.
Kinuseo Campground is an excellent starting point for the adventure, with 42 sites to accommodate riverside and tent camping.
Dinosaur Discovery Museum and trackway tours
Explore one of B.C.'s best-kept secrets—a vast fossil record of Triassic marine fish and reptile life from the Tumbler Ridge region. The Dinosaur Discovery Gallery at the Tumbler Ridge Museum offers an impressive gallery of specimens and displays highlighting B.C.'s two dinosaur excavations.
Summer tours available Thursday to Monday in July and August take visitors along easy hiking trails to touch and feel dinosaur tracks in the natural rock formations. The Wolverine Nordic Society hosts two-hour tours to the Flatbed trackways and one-hour tours to the Wolverine tracksite. Wolverine Lantern Tours take adventurers to the Wolverine site at dusk to explore the tracks by the low-angled light of a lantern—with the river rushing by and "dinosaur noises" in the background, it is a full sensory trip into the past.
Grizfest and Dinosaur Camp
Check out music in the wilderness at Grizfest, held over the August long weekend. Just a short wander from Tumbler Ridge's downtown core, the festival brings the best of Canadian and world music together over two fun-filled days. Children will enjoy the on-site minigolf park, face painting, Dan the Balloon Man and performances just for kids.
Children eight to 13 can also participate in one of two educational camps held all day from Thursday to Monday over Grizfest weekend. The Dinosaur Discovery Museum takes young paleontologists out on a dinosaur safari to visit Cretaceous fossil sites and to prepare fossils to take home. The camps run over four days, or drop-ins for a day or two are welcome. No pre-booking is required.