The legend of John Dillinger
80th anniversary of the capture of the famous outlaw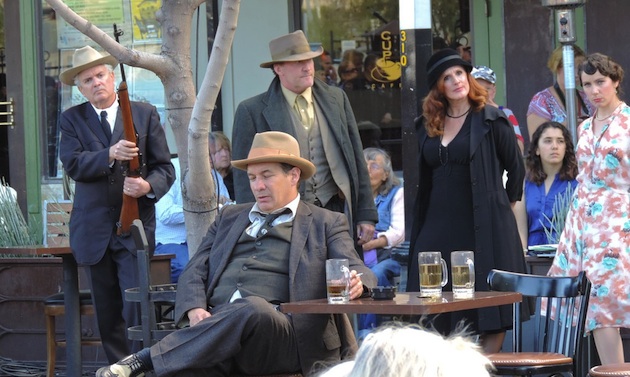 Tucson, Arizona, is a mecca for tourists, with such interesting sites as the Old Tucson Studios, the Sonora Desert Museum, the Old Spanish Presidio and the San Xavier Mission. Less well known is the Hotel Congress and the story of John Dillinger.
In January 2014 the hotel hosted its annual Dillinger Days on the 80th anniversary of the capture of the famous outlaw. The celebration began with a Friday night speakeasy and re-enactments of shootouts and a court case on Saturday. Other events included lectures, walking tours, vintage cars, whiskey tasting, live music, crafts and tours of the hotel.
Early life of John Dillinger
John Herbert Dillinger was born in Indianapolis, Indiana, on June 22, 1903, and raised largely on a farm in nearby Mooresville. Following his mother's early death, he soon drifted into juvenile crime and progressed to robbing banks. The Dillinger Gang terrorized the American Midwest for 13 months, from September 1933 to July 1934. In total they killed 11 men, wounded seven others, and robbed 12 banks—as well as police arsenals for guns and bulletproof vests. Dillinger was labeled Public Enemy No. 1, with a $15,000 reward offered for his capture. In early January 1934, the gang members and their girlfriends decided to spend the winter in Tucson, Arizona.
Arrival of the Dillinger Gang
Tucson seemed like a good place to lay low for the winter because it was so remote from the Midwest. Two gang members, Russell Clark and Charles Makley, along with Clark's girlfriend Opal Long, checked into the upscale Hotel Congress on January 21, 1934. Also registered were Harry Pierpont with Mary Kinder and John Dillinger with Evelyn 'Billie' Frechette. The gangsters of course used assumed names: James Taylor and Frank Sullivan. It appears, however, that Pierpont and Dillinger spent little time at the Hotel Congress, preferring a motel on South Sixth Avenue. The gang also had a rented house on North Second Avenue in Tucson.
At 7:20 a.m. on January 23, 1934, fate dealt the Dillinger Gang a cruel hand. A fire started in the basement of the hotel and quickly spread up the staircase and elevator shaft to the third floor. Tucson Fire and Police promptly attended the fire, helping to rescue gang members Clark and Makley. The gangsters then paid two fireman $12 to return to their rooms and retrieve their heavy luggage. As it turned out, the luggage contained $23,816 in cash as well as a small arsenal of guns. Three days later, the two fireman recognized Clark and Makley in True Detective Magazine as being wanted for bank robbery and murder.
"Dillinger Gang Captured Here"—Arizona Daily Star
The Tucson Police soon learned about the rented house and, over a five-hour period, captured the entire gang without firing a single shot. Makley was arrested when he went shopping at Grabe Electrical. Pierpont, the trigger man, was escorted to the police station by Officer Eyman to obtain a visitor's inspection certificate for his car. Clark was arrested in the house after a struggle. When Dillinger and Frechette showed up at the house at 6:30 p.m. after a day of sightseeing, they were taken into custody.
The Tucson police had accomplished what the combined law forces of Illinois, Ohio, Indiana, Wisconsin and Iowa had not been able to do: capture John Dillinger alive. Even Dillinger was impressed, stating, "Well, I'II be damned."
Dillinger spent only ten days in Tucson from his arrival to his extradition. In the meantime, excitement swept the country and Fox Movie News arrived to film every aspect of the event. Dillinger had become a news sensation overnight and the little town of Tucson was on the national stage.
Death of Dillinger
Dillinger was extradited to Indiana to stand trial for the murder of Sheriff William Patrick O'Malley. He escaped from the Lake County Jail in Crown Point, Indiana, and continued to evade the law. Dillinger's last botched bank robbery with his new gang was on June 30, 1934, at the Merchants National Bank in South Bend, Indiana. By this time, J. Edgar Hoover and the Bureau of Investigation had formed a special unit under Samuel A. Cowley to capture Dillinger. Finally, outside the Biograph Theater in Chicago, "the lady in red" (Anna Sage) led Dillinger into a trap and he was gunned down on July 22, 1934. Dillinger was fond of saying, "never trust a woman or an automatic weapon." He may have been right.
Hollywood has only made three movies about John Dillinger, along with several documentaries. The reason is that Hollywood has not wanted to glorify a notorious criminal. The latest movie about Dillinger is called Public Enemies (2009), featuring Johnny Depp, but do not expect historical accuracy in any of the films.
Legacy of Dillinger
John Dillinger's bank robbing career took place in the worst years of the Great Depression. For many he was a hero, a Robin Hood who robbed banks that were robbing the people. Dillinger came to personify the gangster era and captured the imagination of Americans who desperately wanted a hero. Dillinger was only 31 years of age when he died, but his criminal escapades have continued to fascinate Americans, making him an iconic legend.