The celebration of food in Tucson, Arizona
Between the Best 23 Miles of Mexican Food, the Tucson Originals and the downtown dining evolution, Tucson has a lot to offer
by Karen Kornelsen —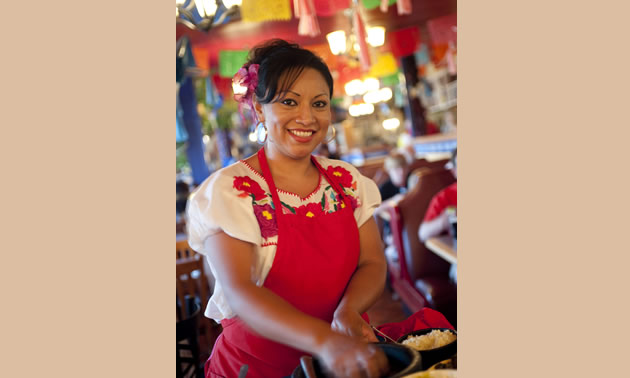 When you visit Tucson, Arizona, you can't help but notice the incredible food culture. The people of Tucson celebrate their local cuisine with such passion, it is sure to draw any visitor to the 100-plus locally owned restaurants in the region. Between the Best 23 Miles of Mexican Food, the Tucson Originals and the downtown dining evolution, there is never a lack of things to try to make your tastebuds go wild.
Best 23 Miles of Mexican Food
Tucson is reputed to be home to the most authentic Mexican food north of the border.
"The highest concentration of these restaurants is found within a 23-mile area that includes the city of South Tucson, downtown and lower midtown," said Jessica Stephens, director of public relations for Visit Tucson. "At these terrific eateries—many of which are family-owned and decades old—the settings are casual, the ingredients are fresh and the experience is unforgettable."
The culinary delight that is the Best 23 Miles of Mexican Food takes people on an amazing adventure through Tucson's Mexican restaurants. Some dishes you've heard of—like tacos, burritos and enchiladas—and some you'll probably experience for the first time—like caramelos (meat-filled cheese crisps), toritos (shrimp-stuffed chillis wrapped in bacon) and raspados (Sonoran-style snow cones with ice cream and fresh fruit). Or sink your teeth into a world-famous Sonoran Hot Dog—a hotdog wrapped in bacon, smothered in beans and pico de gallo, and topped with mayonnaise on a soft bolillo roll.
"Everything from the most authentic Mexican food you can eat on this side of the border to Caribbean and southern recipes with a southwestern twist is what Tucson has to offer," said Stephens. "We don't just make food here, we celebrate it. It's a reflection of who we are as a community."
Downtown dining evolution
With some 50 established restaurants and more anticipated in the near future, downtown Tucson serves up culinary adventure.
"The Tucson food scene has exploded in the last year and continues to evolve," said Stephens. "In the downtown area alone, there are more than 50 local eateries, each with a unique menu and approach to cuisine."
According to Stephens, restaurants that opened in 2013 include Thunder Canyon Brewery, which serves craft beer and food made in a scratch kitchen; Penca, featuring Mexico City cuisine and an international bar; Diablo Burger, showcasing beef and other ingredients sourced close to home; Proper, which creates dishes with quality ingredients from local and regional sources; and Tap & Bottle, an establishment featuring a tasting room and bottle shop with craft beers, wines and spirits.
Three restaurants set to open soon are Good Oak Bar, which will focus on products from local farmers and ranchers and made-in-Arizona beers and wines; Saint House Rum Bar, specializing in food from the Caribbean and anywhere else rum is produced; and Pizzeria Bianco, with cuisine created by James Beard Award-winning pizza chef Chris Bianco.
See the complete list of restaurants on the Downtown Tucson Partnership website.
Tucson Originals
"Fresh, local ingredients and an unapologetic passion for food are what give the Tucson cuisine scene its flavour," said Stephens. "Some chefs are known to use super hyper-local ingredients like mesquite flour and honey, Tohono O'Ohdam golden watermelon, saguaro fruit syrup and, of course, prickly pear."
Formed in 1999, Tucson Originals is a group of local dining establishments that together have been the driving force and model for similar groups all across America who are working to preserve the culinary spirit of their communities. With the rapid rise of chain eateries, this alliance has helped many of Tucson's signature restaurants survive and thrive.
"The name says it all," said Stephens. "These unique local eateries specialize in regionally inspired dishes that not only make your mouth water but also put your mind at ease, because Tucson Originals give back to the community that inspires them. Tucson Originals help define the flavour of Tucson, preserving Tucson's culinary sense of place by encouraging support of locally owned and operated independent restaurants."
The joys of eating locally
According to Stephens, there is now a new bi-monthly magazine out on the shelves in Arizona. It's called Edible Baja Arizona and it tells the stories about food, drink and culture in Tucson and the borderlands—a place called Baja Arizona—as well as celebrates the joys of eating locally by exploring regional food heritages.
"The inaugural issue of Edible Baja Arizona includes articles from Tucson-associated foodies," said Stephens, "including author Barbara Kingsolver, who in 2005 spent a year making a concerted effort to eat locally sourced food; Dr. Andrew Weil, founder and director of the Arizona Center for Integrative Medicine at the University of Arizona; and Gary Paul Nabhan, a co-founder of Native Seeds/SEARCH who has written numerous books on food."
Edible Baja Arizona plans to distribute 25,000 copies of each issue, available for free at mostly food-oriented locations throughout southern Arizona. Mail subscriptions are available for $36 per year.
Read more on the magazine's Facebook page.