Jewels and gems make for a dazzling snowbird destination
Tucson hosts gemstone and jewellery shows that appeal to snowbirding RVers.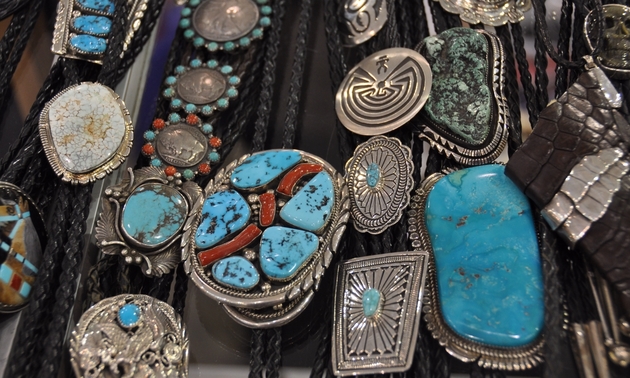 If your Arizona RV trip takes you to Tucson, be prepared for some serious bling. This community offers several gemstone and jewelry displays, and shows throughout the snowbirding season. It's one of the major cities hosting the International Gem & Jewelry Show, a.k.a. InterGem, and that's only the beginning.
Established by the Tucson Gem and Mineral Society, the Tucson Gem and Mineral Show is the largest, oldest show of its kind in the world. It takes place February 8th to 11th, 2018, the public is welcome, and you can find dedicated experts and enthusiasts who can teach you all about the world of earth science and lapidary pursuits.
While not directly in Tucson, the Verde Valley Gem, Mineral & Jewelry Show is worth a brief road trip. This show takes place September 28th to 30th, 2018, at the Cliff Castle Casino Hotel and Conference Center in nearby Camp Verde, Arizona.
Coming up fast is the Tucson Fine Mineral Show. It will be held February 2nd to 5th, 2018, at the Westward Look Resort. It is an annual event, so even if you don't make it to this year's show, you can plan ahead to go next year. It's a chance to see prime mineral samples from all over the world, and share your enthusiasm with other collectors.
This is another popular event, which will happen January 25th to February 7th, 2018. Come to the Grand Luxe Hotel and be awestruck by the collections of stones and the art pieces created with them.
More events to get excited for
Check out the Gem Show Central website for a more complete list of regular gem, mineral and jewellery shows held in Tucson.
If none of this year's events line up with your schedule, don't despair! Tucson Mineral & Gem World is open from 8 a.m. to 5 p.m., 365 days a year, seven days a week. This rock shop has more than 100,000 items for sale, catering to novice and advanced collectors alike. Among the merchandise are minerals, artifacts, meteorites, crystals, fossils, gifts and more. You can shop online, but it's much better to experience the store in person. That way, you can even take a tour of the shop and museum. You can visit Tucson Mineral & Gem World on Kinney Road, or call 1-520-883-0682 for more information.