Enjoy the good life and meet new friends at Rincon Country RV Resorts
Rincon Country RV Resorts are perfect for the active and independent senior
by Kimberly Schoenberger —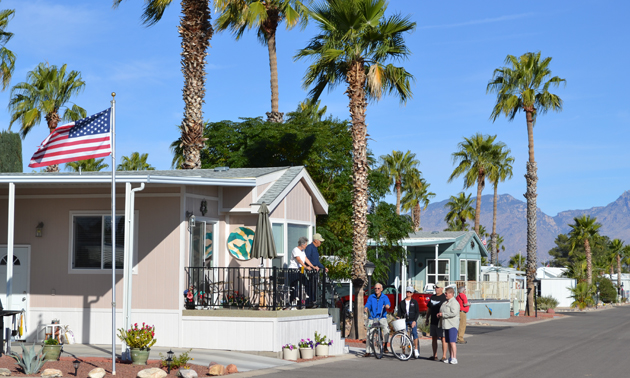 Two unique and spirited properties make up Rincon Country RV Resorts in Tucson, Arizona. Since the 1970s these resorts have been owned and operated by the O'Leary family, and they welcome visitors and residents from all over the world.
"Rincon Country RV Resorts is where you enjoy the good life and meet new friends from all over the U.S. and Canada," said marketing director Neville Proud. "Our guests enjoy a variety of activities and entertainment and our friendly staff is available to help everyone feel at home."
East and West
Rincon Country RV Resorts have two beautiful parks for guests to choose from, East and West. While they do have many of the same fun and exciting opportunities for their residents, each has its individual features as well.
Rincon Country West features over 1000 spaces and offers an opportunity to join more than 100 unique and interesting clubs, including anything from hiking and bocce ball to genealogy and ceramics. The West resort also has its very own Garden Railroad, which has been running since 2005. This G-gauge railway features approximately 1000 feet of track, with four track-powered independent loops and an additional trolley line. All residents are welcome to bring their model trains to the track, which is maintained and run by members of the Garden Railroad during the winter months.
Located on the other side of Tucson, about a half hour drive away, is Rincon Country East. This 460-space resort was named Arizona Large Park of the Year in 2012, and it features gorgeous views of Mica Mountain and Mount Lemmon. This park just recently installed a two brand new pickleball courts, as well as a new expansion to its gym facilities.
Amazing amenities
This season, Rincon Country RV Resorts are excited to begin bus tours from both East and West resorts to local Tucson attractions. Don't feel like travelling? Guests can get a massage onsite or spend the day at the pool.
It's not only RVers who enjoy Rincon Country Resorts, though. Park model homes are available to rent or purchase for affordable prices, ranging in size from 400 to 600 square feet. These homes are very easy to maintain and are great for active seniors looking to live in a welcoming and social community.
Just last summer, the West resort installed fiber optic-powered internet, and the East resort began the groundwork to do the same. Wi-Fi hotspots are also available at the main complexes at both resorts, so you can easily keep in touch with your family and friends when you're on the road.
Fit all of your travelling needs with with Rincon's full hook-up abilities, laundry room, 30/50 amp hookups, private locked mailboxes, lounge area, deluxe cable television and fully-stocked library.
Letting the creativity flow
Rincon Country RV Resorts offer their residents the opportunity to delve into their creative sides, with both the East and West featuring woodworking shops as well as silversmithing and lapidary rooms. There's no need to worry about having previous knowledge of these crafts, though—beginners have the opportunity to learn the basics from the helpful staff and other more experienced members of Rincon Country.
These wood, metal and stone creations can be found around the resort and on display at any of the shops. Residents bring their own techniques and creative ideas to the crafts, making each and every project unique.
Express another creative side of yourself with one of the painting classes or in the sewing room, where you can make beautiful watercolours or learn to construct an apron. Finish off a long day of art and creation with a quiet walk around the wide lanes as you take in the awesome desert sun.
High quality of life
There are numerous other activities available to residents, including fitness classes, painting, water aerobics, dances, craft fairs, farmers' markets and much more. Practice your golf swing at the golf net or putting green, educate yourself on heart health, or create a masterpiece at an art class. Living at Rincon Country RV Resorts means living free from boredom.
Many times guests at Rincon Country have found that, though they go to the resort intending to stay a shorter time, they end up sticking around for much longer because of the staff, the newly found friendships and the amazing abundance of activities that are offered.
Not only are these activities fun for everyone, but they bring residents together for an enjoyable social experience. New friends are made every day at Rincon Country, and the memories made are kept for a lifetime.