Discover the Sleeping Giant
This natural structure adds an air of mystique to Thunder Bay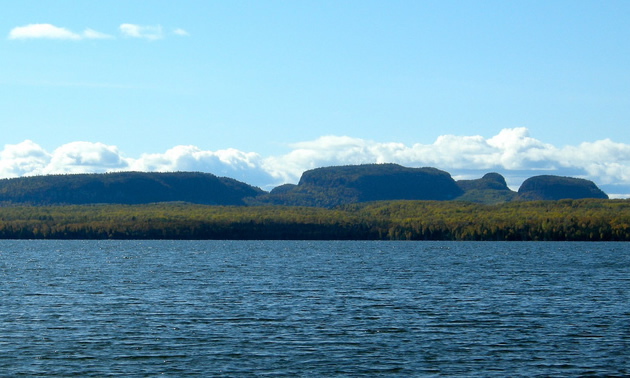 From Thunder Bay's shores, at the head of Lake Superior, a geological marvel can be seen. There is a prominent land mass at the mouth of the bay shaped like the outline of a sleeping figure, an anomaly associated with an old Ojibway folk tale.
There are several versions of the story, but one interpretation is that Nanabijou, the spirit of the deep sea water, was turned to stone when greed caused an enemy tribesman to reveal the location of the Ojibway silver mine to white traders.
The water from Lake Superior now floods the area around the mine shaft. Legend has it that this is a curse brought on by the broken promise to keep the mine a secret among the Ojibway people.
It is from this tale that Sleeping Giant Provincial Park gets its name. With boreal forests and rugged trails, visitors come from all over to see the impressive Lake Superior, explore the Ontario landscape and see the mysterious formation that inspired the local legend.
There is backcountry camping available, fishing and boating opportunities and, of course, plenty of places to swim and hike. There are also convenient facilities such as a park store, visitor centre, showers, laundry and a playground to make the experience even more comfortable for campers.