Get your history fix
The Battlefords have a riveting history that you can learn about at interactive museums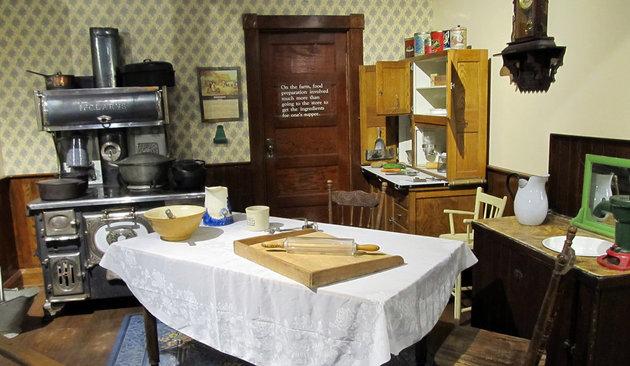 Battleford and North Battleford are two tourist-friendly Saskatchewan communities that offer a glimpse of the good old days. History lovers can take a day trip in this area and fully satisfy their desire to see heritage attractions.
Named after its founder, who was a history buff and member of a pioneer Royal Canadian Mounted Police family, the Fred Light Museum is located in an old school building that was built in 1914. It became a museum in 1980 and was designated as a municipal heritage property in 1985. Here you can find artifacts from the 18th century to early 20th century. There are several themed rooms, each highlighting its own aspect of the past. For example:
The Ye Olde General Store
This display features vintage food cans and bottles from a bygone era, with brand names you may recognize (and some that are no longer in existence). You may also look at clothing, spinning wheels, butter churns and other devices that were in common use back then.
The Battleford Room
Here you can find a sampling of historical items from the Battlefords and area. Check out old newspapers, telephones, First Nations artifacts and even an old dentist chair from the early 1800s.
The Firearms Room
This room houses Fred Light's collection of firearms, which he had accumulated over 40 years. Gun enthusiasts should definitely make time for this exhibit—it is quite impressive with more than 330 items on display (some dating back to the 1600s). You can also find information about the 1885 Rebellion, the NWMP, RCMP and the Battleford Police.
The School Room
The School Room is set up much like it would have been during the building's days as St. Vital Catholic School. Look at the variety of sports equipment, maps, desks and other school items from back in the day.
The Veteran's Room
Here you can check out a range of military and police uniforms and accessories that date back to the 1800s. You will also find medals, badges and other memorabilia from the Boer Wars and the First and Second World Wars.
This room also has an honourary display about the H.M.S. Battleford, which was a ship named after the town.

The 1905 Fire Brigade
This room exists as a tribute to the first Battleford Fire Brigade. The exhibit features vintage firefighting equipment, articles about recorded local fires, and Battleford's first three firetrucks, just to name a few things worth seeing.
Another key place to learn more about local history is the Western Development Museum in North Battleford. There are many rotating exhibits here, with new material being added all the time.
There are also several events that take place at the museum throughout the year, bringing history to life with workshops on old-school skills, and classes on various subjects pertinent to local history. There is something for every age group, so everyone can benefit. Learn about First Nations and Metis farming in the area, the fur trade and other fascinating subjects.
Don't forget to visit the Loft Gift Shop on the way out to pick up a souvenir.