Fireworks, skydivers and astronauts mark opening of colossal new exhibit
The new Independence Plaza is Space Center Houston's newest addition, opening on January 23, 2016.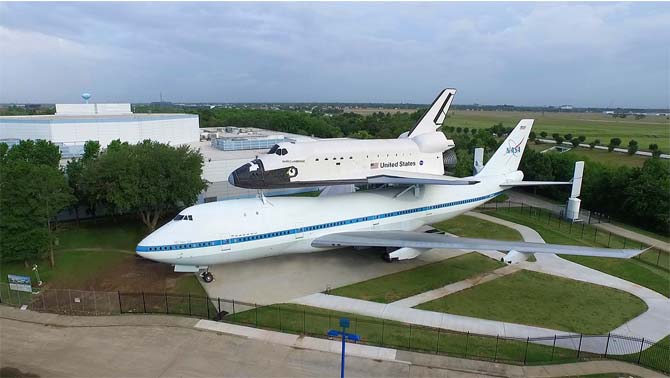 HOUSTON, Jan. 15, 2016 – Space Center Houston's colossal new Independence Plaza opens Jan. 23 with fireworks, skydivers, astronauts, hands-on science activities and live presentations as it celebrates "Mission Accomplished."
"It's going to be a spectacular and historic day," said Richard E. Allen Jr., president and CEO of the educationally-focused nonprofit museum, Space Center Houston. "Visitors will be a part of history entering the one-of-a kind exhibit on opening day."
Space Center Houston's newest exhibit features the first shuttle carrier aircraft, NASA 905, and the high-fidelity shuttle replica Independence. Visitors will be able to enter both vehicles and learn about the Space Shuttle Program and the exciting future of space exploration through interactive exhibits and artifacts.
It's been years in the making and the nonprofit will kick off the day with a special opening ceremony outside at 8:25 a.m., followed by all-day entertainment that begins at 9:10 a.m. when the center's doors open and ends at 7 p.m. Speakers include NASA Administrator and astronaut Charles F. Bolden Jr. and NASA Johnson Space Center Director and astronaut Dr. Ellen Ochoa. Laura Husband, daughter of the late astronaut Col. Rick Husband, will sing the National Anthem while ReMax skydivers land nearby. The U.S. Coast Guard Ceremonial Honor Guard will present the colors.
Daylong activities
Visitors will meet and have a photograph and autograph opportunity with NASA astronauts from the present and past; watch a space adventure during a special viewing of the new animated movie "Capture the Flag;" participate in interactive Pop-Up Science Labs; and have fun with hands-on space-related educational activities. The day includes two special opportunities to have Lunch with an Astronaut and hear stories about their space adventures with astronauts Jerry Ross and Ken Cameron.
There will be three special panel discussions about the rich history of the shuttle program and the exciting future of aerospace from the pioneers of human space exploration. "The Shuttle Program: An Era of Innovation and Creativity" will feature astronauts Jerry Ross, Dr. Jan Davis, Ken Cameron and shuttle carrier aircraft pilot Frank Marlow. A second panel called "Continuing the Mission: the Future of Human Deep Space Exploration" will feature Tony Antonelli, Lockheed Martin; Mark Mulqueen, Boeing; astronaut Brian Duffy, Orbital ATK; and Chris Sanders, Aerojet Rocketdyne. The final panel is "Commercial Cargo and Crew to International Space Station" with George Nield, Federal Aviation Administration; Peter McGrath, Boeing; Frank DeMauro, Orbital ATK; and Benji Reed, SpaceX.
Astronauts signing autographs include Anne McClain, Ken Cameron and Jerry Ross, who also will sign copies of his book "Spacewalker: My Journey in Space and Faith as NASA Record-Setting Frequent Flyer."
The big attraction will be Independence Plaza and the public will be able to enter it for the first time and go inside the shuttle replica and airplane to see exhibits that detail one of America's greatest engineering marvels.
The exhibit complex will immerse visitors in the science and history of the shuttle era with hands-on exhibit displays inside an unprecedented interactive experience. It honors those who designed, built and flew in America's Space Shuttle Program by recounting stories from astronauts, engineers and pilots. The plaza shows the key role NASA Johnson Space Center played in the shuttle's development and looks to the future through the research currently being performed at NASA.
Designing the complex was no small feat. Many generous donors, companies, government agencies, cities, foundations and other organizations came together to create this one-of-a-kind exhibit, led by The Boeing Company. Other major contributors were Otis Elevator donating the elevator, the architecture firm PGAL designing the complex, Jacobs providing the project engineering oversight and Palletized Trucking who helped move the plane to the center. In addition to these key in-kind contributions, $5 million was donated by individuals, corporations and foundations.
Visitors can reserve a free timed ticket to view the smaller shuttle, enter the larger plane via a first-come, first-served line or walk around the plaza without waiting in lines. The new timed tickets were a suggestion from our visitors. We will continue to modify the program to ensure our guests have the best experience possible. To learn more about timed tickets, visit spacecenter.org/timed-ticketing.
For tips on planning your trip, go to the spacecenter.org/visitor. Admission to Independence Plaza is included with a full-price ticket. Purchase a Space Center Houston membership for a few dollars more than full-price admission and return free as often as you like during the year with free parking, special events and much more. For more information on Space Center Houston, visit spacecenter.org.