A lakefront hub
Sylvan Lake is a town for all seasons, with winter and summer activities, events and attractions
by Lisa Crane —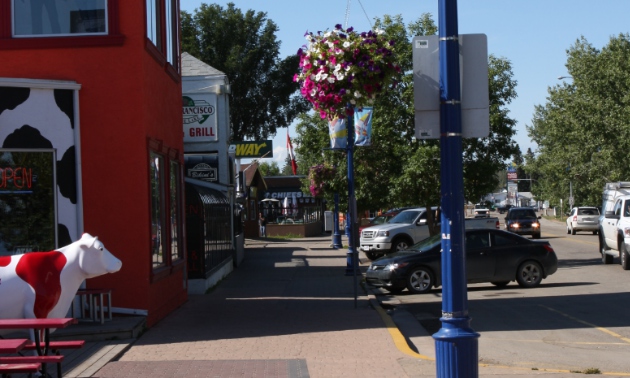 The town of Sylvan Lake, west of Red Deer, is one of central Alberta's most popular recreational destinations.
Mayor Susan Samson said the hub, people-gathering place and signature of Sylvan Lake would be the lakefront, which is actually a provincial park (day-use only). Samson said Sylvan Lake Provincial Park spans a length of 1.6 kilometres, starting at the east entrance of town.
"(It) is the second busiest urban park in the provincial park system," said Samson. "We receive over one million visitors a year."
Samson said the attraction of this park is its proximity to other communities, ease of access and the warm, safe, clean waters of the lake.
"The Town of Sylvan Lake, in conjunction with the Province, is in the final stage of the Lakeshore Drive Redevelopment," said Samson.
She said that this $24-million project has enhanced the lakefront area and created a legacy to attract people.
Sylvan Lake has full-service infrastructure for tourists and locals. Attractions include a sailing club and marina, a waterslide, many restaurants and the lighthouse. It is not just a summer destination. In winter, Samson said, the frozen lake serves as a stage to showcase ice fishing, kite surfing and motorcycle racing. Events include Winterfest, the Polar Bear Dip, fireworks, pond hockey and the Speed Skating Ice Marathon.
"(It's) truly a town for all seasons," said Samson.
The community centre houses a fully equipped commercial kitchen, gymnasium and full banquet facilities. It is linked to all the town's walking trails and is a central spot for classes, workshops, weddings, galas, dances and town hall meetings.
"Our greatest asset and draw is the lake," said Samson. "There are very few Albertans who have not had a Sylvan Lake experience. We still maintain our small-town feel by the friendly smiles, helping hands, great events and a family atmosphere."
Samson said that in the early days of the community, big band dances were held in Varsity Hall.
"Jazz has strong roots in Sylvan Lake," the mayor said.
Samson said that 2013 marks Sylvan Lake's 100th birthday.
"We will be having special enhanced events occurring every month of 2013, starting off with a blast of fireworks on New Year's Day," said Samson.
Check out Sylvan Lake Tourism for information. There are various RV campgrounds in the area.