Opa! The taste of Greece in southwestern Saskatchewan
A night of plate-smashing revelry in aid of the Swift Current hospital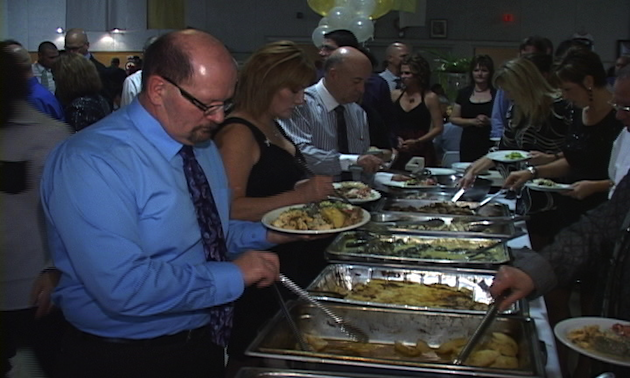 While Swift Current now enjoys a diverse multicultural flavour, much of its original immigrant population hailed from Greece. That has left its mark on the city in a flavourful way.
Greek restaurants include the Akropol, Kabos, TNT's and—the one that started it all back in the mid-1940s—the Modern Cafe. While each has its own specialty, they all have strong ties to their Greek origins.
At the Akropol, diners can enjoy pork and chicken souvlaki dishes, gyro served with tzatziki, or the house specialty: the spinach and feta pizza. Travellers gladly head off the highway into Swift Current's quaint downtown core just to get a taste of this dish.
Annual fundraiser
Where Swift Current cuisine really shines, however, is when all of the Greek restaurants and indeed the entire Greek community band together each October for the city's annual Greek Night Festival. It's a fundraising event, now heading into its 15th year, that to date has raised more than a half a million dollars for medical supplies for the hospital in Swift Current.
In addition to such savoury delights as dolmades (grape leaves filled with spiced rice and meat), calamari, spanakopita and souvlaki, Greek Night attendees can also witness the dramatic lighting of the saganaki, or pan-seared kefalotyri cheese, which is doused in ouzo and then set on fire.
It's a night of revelry that includes the traditional smashing of plates with loud shouts of "opa!" as well as Greek pan-Hellenic dancing—both demonstrated and enjoyed by guests—and, of course, ouzo. Both the building and the guests are decked out in their finest.