Find the floral beauty of southern Saskatchewan
Regina Floral Conservatory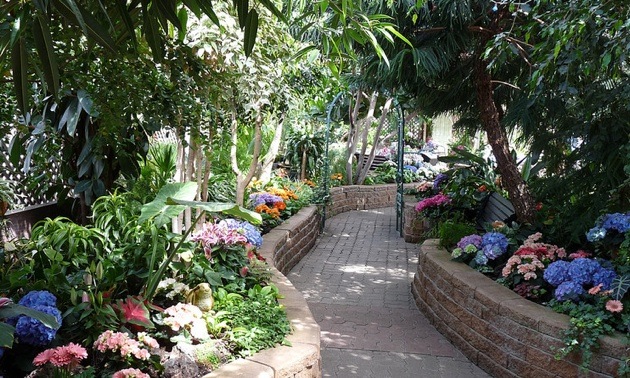 Regina Floral Conservatory
Regina's Floral Conservatory offers a stunning indoor-outdoor display of flowers, trees and large plants and six revolving seasonal displays open from September through June.
Jess Paul, president of Regina Garden Associates, which operates the conservatory, said the display kicks off fall with autumn flowers and then moves into Christmas wonderland featuring poinsettias and other winter beauties.
"Next we have a winter getaway display, which features tropical varieties like orchids and hibiscus," she said. "February marks the spring bulb display—we plant 4,000 to 5,000 bulbs in the fall and they over-winter in the cooler. We force them early for a spring display in Saskatchewan before spring actually begins."
Native plant garden
In 1973, a group of interested naturalists and horticulturalists collected seeds from native plants in the countryside, planted and nurtured the seed and seedlings at the Wascana Centre greenhouse, and then planted them in the spring of 1994 at the Royal Saskatchewan Museum to create a beautiful native plant garden.
"The garden does not look like a native prairie, but instead is a demonstration of some of the native wildflowers that people can find in the wild," said Wayne Pepper, conservation director for Nature Regina and the garden's overseer. "Many of the plants are now quite hard to find in the wild around Regina even if you know where to look—and most people have no idea where to look."
The garden contains 60 to 70 species of native plants, including prairie crocus, prairie lily and showy milkweed, and is used extensively by teachers and museum staff who carry out interpretive programs.
"Although the native plant garden was originally intended to showcase native wildflowers for their beauty and natural heritage value, we have found that the garden is a real attraction for butterflies, wild bees and other interesting insects as well as different urban bird species," said Pepper.
"A couple of years ago, there were monarch butterflies observed at the milkweed plants. Museum staff collected some of the milkweeds with butterfly eggs and larvae on them, nurtured them in the museum, then orchestrated a public release of the butterflies once they emerged from their chrysalis. This was a very popular event with the public."
Edwardian Gardens at Government House
Scottish landscape gardener George Watt created the Edwardian Gardens at Government House in Regina in the early 1900s as a prairie oasis that would please the eye and delight the senses.
The garden's 16 outdoor rooms offer thousands of vibrant annuals and perennials, each configuration telling its own tale of days gone by, with more than 5,700 tulips, a collection garden of stunning lilies and a rose garden with hundreds of species. Step into a floral world over a hundred years old and experience the tranquil, botanical beauty of the past.