Socorro, New Mexico, immerses travellers in local tradition and history
Socorro offers visitors ample opportunity to discover true southwest history and lifestyle—including plenty of opportunities to learn a new skill or brush up on an old one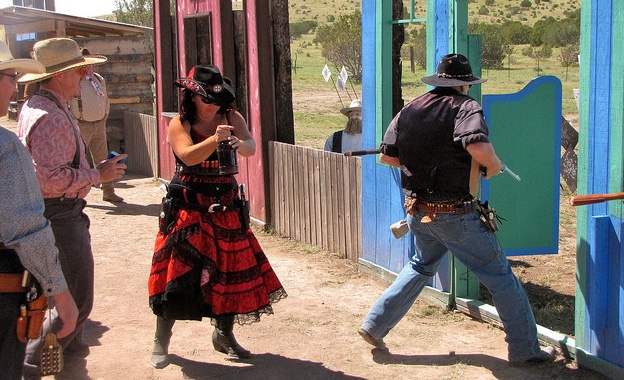 Socorro, New Mexico, is in the desert heartland where miners, cowboys and settlers have a rich and exciting history of exploring the beautiful and scenic landscape.
Established in 1598, Socorro, which means to give aid or to give succor, was a source of aid and respite for the first expedition of Spanish families travelling north from Mexico that year. Today, the town relishes in history, celebrating its Spanish adobe architecture, native history and natural wonders while offering visitors ample opportunity to discover true southwest history and lifestyle—including plenty of opportunities to learn a new skill or brush up on an old one.
Shooting up the West
If you're going to vacation in cowboy country, you may as well learn to shoot. Magdalena Trail Drivers Cowboy Action Shooting hosts action-shooting events twice a month year-round, along with a three-day Cowboy Shootout Event each September.
Club president Heather Kresser a.k.a. "Half-a-Hand Henri" said participants in the events choose an alias, dress in period clothing and fire replica or original pistols and rifles from the 1870s to early 1900s through a series of stages. Scenarios—maybe some bandits are stealing your mules or someone gets out of hand in the saloon—with a series of stationary and moving targets at each promise endless, Old West-style fun.
"We have what looks like a 1800s town set up with storefronts and corrals, gallows and a saloon," said Kresser. "There might be bankers and townies and Indians. It is a lot of fun."
The public is welcome to attend and try their hand at shooting in a safe, controlled environment, said Kresser. "They could start out watching, and before they leave we will have pistols strapped to their waists and be teaching them to shoot a rifle and a shotgun," she said. "There are steel targets, so people love the instant gratification, and it is really a game with great camaraderie."
Magdalena Trail Drivers is one branch of the Single Action Shooting Society, which has 103,000 members. Safety protocol and training for member participants are stringent, and Kresser said the sportsmanship is such that if your gun breaks down, the first person to offer his or hers will be your closest competitor.
More than anything, it is a family-oriented game, she said. "Every one of us is eager to introduce someone else to the sport and game of shooting," she said. "I've never seen anyone walk away from firing without a big grin on their faces."
The group offers six-stage events on the first and third Saturday of each month and its annual event the last Saturday in September. Visit http://magdalenatraildrivers.com/ for details, or visit www.sassnet.com for single-action shooting events in other communities.
Walking through history
Socorro has the distinct honour of being the only district in New Mexico to be named a scenic byway. The Socorro Historical District Scenic Byway walking tour begins at the Historic Plaza and wanders through three districts: The San Miguel Church District, the Church-McCutcheson District and the Kittrel Park-Manzanares District. Explore Spanish, pueblo-style adobe architecture in the San Miguel Church District, see Socorro's oldest structure—the San Miguel Mission—at the byway or learn about 400 years of history in Socorro at the Wheel of History in Kittrel Park. Plan for a full day of easy walking and a great deal of rich historical learning.
Just 48 kilometres (30 miles) away, Magdalena, also part of Socorro County, offers its own historic walking tour, which explores the mysterious Ancient Ones or Anasazi, cowboys of the West, miners and today's efforts to preserve the community's informative past.
Got rocks?
Rock hounds unite in Sorocco County's incredible backcountry and canyon locations where rocks, minerals and fossils are exposed at the surface.
Quebradas Back Country Byway offers rolling hills for exploration by mountain bike or foot, and San Lorenzo Canyon is a rugged, red rock canyon with geological wonders throughout. Learn about these locations as well as Box Canyon, a premier camping, hiking and rock-climbing destination, Water Canyon, and other stunning mountain ranges by downloading the New Mexico Bureau of Geology and Mineral Resources Rockhound Guide.
Also worth a stop is the Mineral Museum at New Mexico Tech. Established in 1889 and housing more than 15,000 mineral specimens, it has grown to one of the largest mineral museums in the U.S. Visit geoinfo.nmt.edu for details and tour information.