"Welcome home"
Keep your receipts - you'll be glad you did.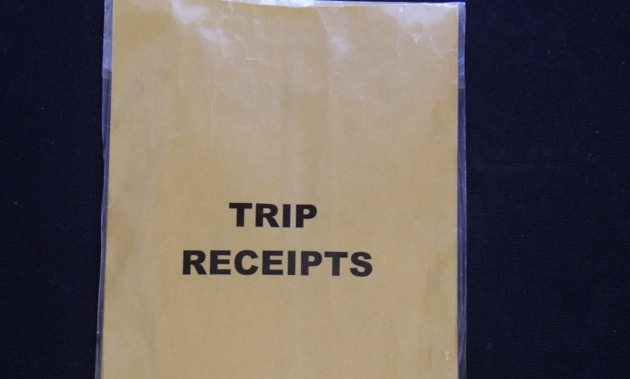 "Welcome home," the Canadian Border Services Agency officer said when we approached the booth at the Coutts border crossing.
Now, that felt so good.
Triggers that lead to thoughts about returning home:
The weather is getting hot.
The day is looming closer and closer – the day that your Travel Emergency Medical Insurance is due to expire.
We always come home with mixed feelings - we are leaving good friends and warm winter weather but then we are pleased to be back in Canada and to see our friends at home. The inevitable part is the totally unpredictable weather.
If you have spent any part of your winter in one place, it's likely you have unpacked everything and have purchased things you just can't live without. Every spare inch is full.
The last Snowbirding 101 column dealt with the challenges of packing up. In this column, we share ideas about travelling and making crossing the border easier.
Getting your RV ready to travel – things to check
Unless your memory is far better than mine is, there are things to remember before starting the long trek northward:
Check fluid levels: We generally check the oil, transmission fluid, etc., on vehicles we use every day but motorhomes get neglected when they sit for weeks in one spot. Remember what the roads can be like on the way home? Be sure to check the window washer fluid.
Tires: Check the pressure in your tires. The air pressure in tires goes down whether you are driving or sitting still. Also, check the wall of the tires on the RV for checking and cracking. The walls will check and crack even if the RV has been sitting for an extended period of time.
Connections: Connections dry out; get damaged; change in mysterious ways; or just stop working while your RV is sitting still. It doesn't hurt to check your connections whenever you reconnect your toad or trailer, especially the brake and signal lights.
The need to winterize: Sometimes we do and sometimes we don't need to winterize before we hit the northern climets. We always keep a close eye on the weather as we head homeward.
By the way, RV antifreeze is difficult to come by in many of the southern states. We carry it with us.
Make life easier
Usually it is fairly simple to cross the border. After sitting in the lineup for whatever waiting time it may be (waiting times are listed on the Canadian Border Services Agency website at http://www.cbsa-asfc.gc.ca/bwt-taf/menu-eng.html, the Border services Officer will likely ask you:
how long you have been in the USA;
if you have any alcohol, tobacco, firearms, etc.;
what you have to declare.
( http://travel.gc.ca/returning/customs )
BUT you never know when it will be your turn for the dreaded inspection.
The Border Services officers have significant power. They can impose fees of 25% to 80 per cent of the value of the seized goods, or even seize all vehicles used to import goods unlawfully, so it is in your best interest to co-operate with the officers.
By the way, they like to see your eyes, so if you are wearing sunglasses, it is a good idea to take them off.
Keep receipts
Everyone has his or her own system for keeping track of purchases that will be going back into Canada and need to be declared.
We put the receipts for any purchase likely to come back in a special large envelope. On our way home, we pull out all the receipts and sort them into "with us" and "already used" and throw away the receipts for the "already used" receipts;
We make two lists - His and Hers;
We total each list;
Then we arrive at a grand total (most of the time, they have just asked for the total, but I like to be prepared).
Finally, I copy the lists onto the outside of a smaller envelope and put all the relevant receipts inside.
Voila! All ready to go!