Full-timer challenge: living on a small pad in an RV park
Some full-timers choose one or two places and spend the majority of their time there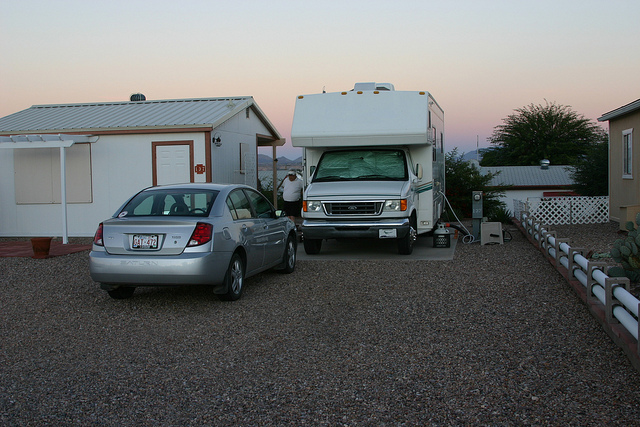 Once RVers make the decision to go full-time, living on a small pad in RV parks does not seem to be an issue. Living on a small pad in RV parks is something to consider when making the decision whether or not to RV full-time. The bigger distinction is probably why you have adopted the life of a full-time RVer in the first place.
Full-timers we have talked to brought up the issue of finding sites to accommodate slides as opposed to living on a small pad.
Choosing where to stay
There are just so many options. One full-timer told us, "One of our key considerations as full-timers is that we try to only choose to stay in places where the weather is good, not too hot and not too cold."
Some full-timers choose one or two places and spend the majority of their time there, while others choose to spend most of their time travelling and spend a minimal amount of time in an RV park.
We re-charge in an RV park about once every couple of weeks and spend most of our time travelling.
The benefits of an RV park
Almost every RV park has common space where guests congregate, and they offer a wider variety of activities. The parks that have more long term accommodations usually have a range of workshops like woodworking or mechanical and encourage even short-term guests to take advantage of other activities such as fitness, crafts, games or educational activities. Invariably, there are activities involving food: social hour, potluck dinners, celebrations, etc.
We have friends in one park that encourages its guests to set up gardens throughout the park. Other RVers we know set up growing plots in boxes or pots.
Places to stay
I'll try to highlight the different types of RV parks and parking opportunities we have found:
Membership parks: Most membership parks have a two-weeks-in and one-week-out policy where you have to leave the park for a week after you have been there for two weeks or pay full price.
Discount camping: Parks offer a 50 per cent discount at certain parks and campgrounds with varying restrictions and are scattered throughout Canada and the U.S.A.
RV/camping clubs:
Escapees RV Club. Escapees parks usually have boondocking or dry camping areas for about $5 per night.
State and community parks: These vary greatly from full services to no services at all. In most state parks the surroundings are kept as natural as possible, but the sites tend to be small because they were developed before slides became so popular.
Boondocking or dry camping: Sites are random and generally not restricted.
U.S. Bureau of Land Management Visitor Areas:
Long-term Visitor Areas: There is a fee for these, usually around $40 for 14 days or $180 for seven months. You can move from one area in that particular district to another and use whatever services they have, such as sani-dump and fresh water facilities.
Short-term Visitor Areas: There is no fee for these and they are restricted to a 14-day stay. After that you must move at least 25 miles away, but can return after 25 days. There are no amenities but lots of space.
We have encountered lands that are owned by private mines or state or provincial forestry departments that allow parking. There are few restrictions and no security but lots of space.
So you see, so much depends on why you are full-timing in the first place. There are many ways to do this full-timing thing.
People who full-time are always home and are often nomads who like to travel and go new places.
If your motivation is to fulfill a dream, make sure it is the best solution for you.