Smithers in summer
This small, friendly community is impressing visitors with its wealth of recreational options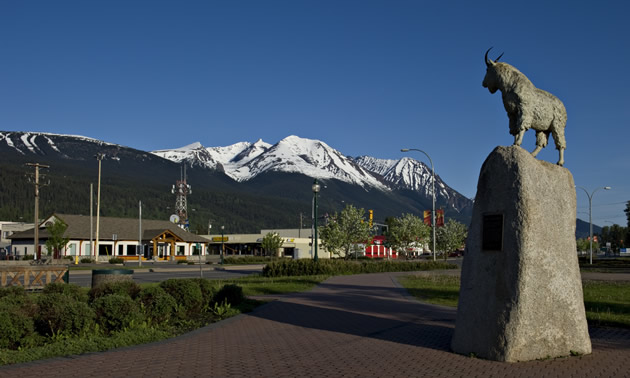 If you're planning a short visit to Smithers, B.C., be prepared to want to stay longer. The easily accessed parking and the walkable Main Street will tempt you to explore the bookstores, coffee shops and artisanal vendors, and the riverside municipal park, with its inviting trails, welcomes visitors into its green spaces.
As you stroll Main Street in summer, there will likely be a couple of people playing ping pong at the permanent outdoor table, and you're welcome to sit, watch and chat to others doing the same. A little farther along is Bovill Square, where you may catch performances by local entertainers or take part in a local community event.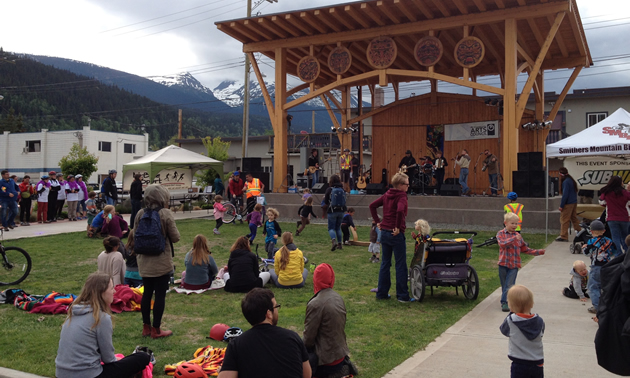 If you have time to sample them, you'll find that the mountain slopes surrounding Smithers are a vast paradise of trails for hikers and mountain bikers, especially those who welcome an opportunity to photograph wildlife. Leanne Helkenberg, president of the Smithers Mountain Bike Association, is an enthusiastic rider herself.
"One of my favourite biking trails is Mean Streak, a cross-country trail that's a fun, flowy ride down," she said. "My other favourite is more of a pure downhill trail called Huckin' Eh. You shuttle up and then ride it down. It's a bit steeper and it has a couple of jumps. You can ride the corners and the berms and some neat little structures that are fun—you can get going pretty fast."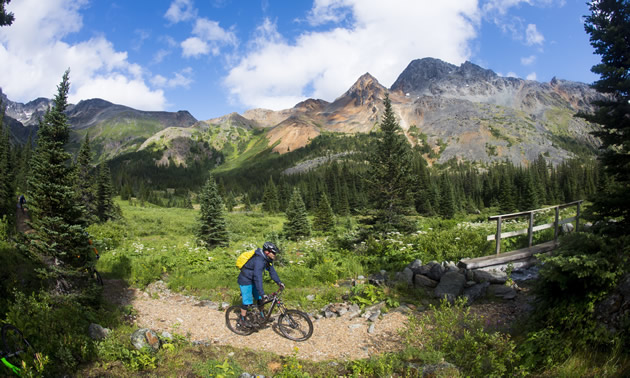 If you don't have the time or the inclination to hike or mountain bike, take the paved road up to Hudson Bay Mountain Ski Resort (open November through April) to enjoy the view, the alpine air and the blanket of wildflowers covering what locals call "The Prairie."
Smithers is gaining a reputation as a skiing destination—apparently the powder there is spectacular. In the summer, the community offers a steady schedule of concerts, cultural events and exhibitions. The season wraps up on Labour Day weekend at the annual Telkwa BBQ and Demolition Derby, where you can enjoy food, music, dancing, ball and horseshoe tournaments, along with the noise and excitement of the demo derby itself.
Smithers has dozens of eateries including franchised fast-food and take-out spots as well as cafés and restaurants offering fine dining and ethnic specialties from local cooks. It has pubs, too, though currently no craft brewery. Hmmm . . . now there's an opportunity for someone who wants to win the town's love.
Smithers, B.C., is a jewel of a small town set in the beautiful Bulkley Valley on the Yellowhead/Highway 16, halfway between Prince George and Prince Rupert. Fun fact: Residents of Smithers are known as (wait for it) Smithereens!