Grasslands National Park opens to RVers
Canada's only prairie national park builds a new campground suitable for RVs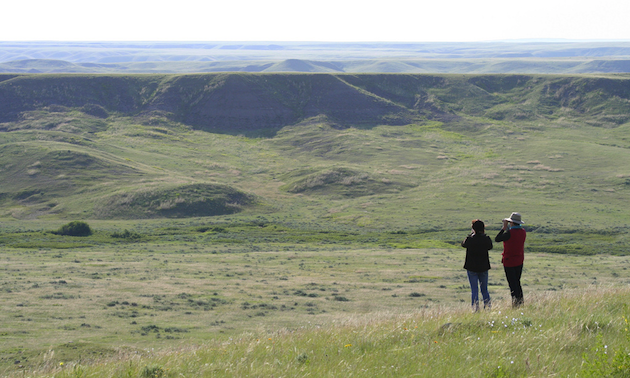 Grasslands National Park, located near the town of Val Marie in southwest Saskatchewan, is looking to increase its reputation as a tourist destination with the opening of the new Frenchman River Valley Campground on August 4, 2012.
Located along the Ecotour Road in the west block of the park, the new campground features a total of 24 campsites, including 20 sites suitable for tent and RV camping. Four of these include electrical hook-ups and four are walk-in sites—two of which feature tipi-style accommodation available for rent. Each site has picnic tables and fire pits. The new campground also features a number of public amenities, including a newly built cook shelter (which will also serve as home base for park programming), modern pit toilets and potable water stations, the first ever in the park.
One of Canada's most pristine and natural environments, Grasslands consists of two areas known as the West and East Blocks. Within the West Block you will find the Ecotour road, which takes you into the heart of Grasslands through wildlife habitats for the recently reintroduced herd of plains bison, now numbering over 350, as well as the once near-extinct black-footed ferret, which recently celebrated its first wild birth. You'll also have an opportunity to view deer, pronghorn antelope and a host of birds—including endangered species such as the greater sage grouse and burrowing owl, as well as more common species including sparrows, rough-legged hawks and prairie falcons.
In the East Block within the Killdeer Badlands of the Rock Creek area, visitors have the opportunity to wander among some of Canada's most abundant paleontological discoveries that have yet to be fully explored or developed. This is one of the first areas in Canada where dinosaurs were discovered, back in 1874. Hundreds of metres of exposed sedimentary rock are revealing more and more secrets with the passing of time.
Between the two blocks that make up Grasslands you will find the village of Val Marie, which in addition to offering free Wi-Fi, a coffee/gift shop and the chance to take in some of the amazing works of art local residents have produced.
The village is also the location of the Grasslands Visitors Centre, where for only $4.90 during weekends in the summer months, park staff will take you on a personal tour of the block of your choice.
Grasslands National Park is the darkest Dark Sky Preserve in Canada and the only one of 43 national parks that represents prairie grasslands. It is part of a worldwide network of protected areas involved in the conservation of native grasslands ecosystems and was proclaimed a national park in 2001.