The park that has everything
Happy Hollow Park & Zoo brings awareness and entertainment to all age groups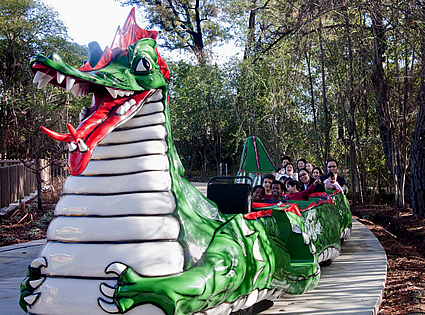 A family trip to San Jose would not be complete without a visit to Happy Hollow Park & Zoo. This long-established facility offers an entertaining and educational experience for all ages. We wanted to know more about this enchanting place, and Vanessa Rogier was pleased to answer our questions.
What are the most popular attractions or activities at Happy Hollow?
The Danny the Dragon ride. He has been a part of Happy Hollow Park & Zoo since the gates opened in 1961, and visitors of all ages have very fond memories of him. Also, Sophia the jaguar is probably the favourite of the animals. Now that we have opened the Pacific Fruit Express family roller coaster and the Redwood Lookout play area, (they) have quickly become popular favourites as well.
Are there certain events that Happy Hollow is particularly known for?
We host a very popular Halloween event called Haunt the Hollow—trick-or-treating throughout the park and zoo. (It's) very fun and it is our largest event.
Why is this a perfect place for families visiting San Jose?
Happy Hollow provides the unique experience of animals, rides, puppet shows and play areas. The zoo experience is an up-close encounter, not only the new Contact Area where visitors can touch, feed and hug numerous animals, but many of the exhibits have glass viewing areas that allow visitors to get within inches of many of the animals.
We also offer several rides and play areas for families allowing for a multi-generational experience.
Could you please tell me a bit about your conservation efforts?
Happy Hollow is involved in the conservation efforts of many species, both locally and internationally. (These efforts range) from orangutan conservation in Indonesia through our cellphone recycling program and jaguar protection in Belize, to providing a living example in our Backyard Habitat where we encourage visitors to provide homes, shelter and food for the many species we share our community with.
Is there anything else you would like our readers to know about your facility?
We are open year round and our website provides up to date information on daily programming, classes, summer camps and animal meet and greets.
Resource: www.hhpz.org