Create a lifetime of memories at Cottonwood Cove on Shuswap Lake
Cottonwood Cove RV Resort can be your RV home site for years to come in this recreational paradise on Shuswap Lake.
by Stephen White —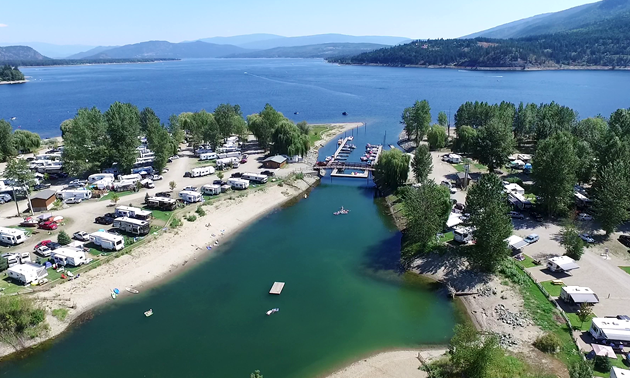 Shuswap Lake is in south-central B.C. and is surrounded by the beauty of the Shuswap Highland comprised of mountains and deep valleys carved out by past glaciers. Shuswap Lake offers 1,000 kilometres of shoreline with sandy beaches to enjoy and is H-shaped with four arms: Salmon Arm, Anstey Arm, Seymour Arm and one arm named Shuswap Lake. This region is a recreational paradise, providing opportunities for camping, boating, water sports and golfing and is a world class fishery with waters that host at least 14 species of fish including chinook, coho and sockeye salmon.
On the north shore of the south-west end of Shuswap Lake, you will find a sandy shoreline with a natural secluded cove where Cottonwood Cove RV Resort has been built. The cove provides a sheltered and safe swimming area where campers can also kayak and stand-up paddle board in calm waters. Boaters can take advantage of the on-site boat launch and protected, private marina. A new clubhouse has just been built where residents can relax, socialize and play games. Or guests can soak in the new heated outdoor pool or hot tub.
The resort itself has 3,000 feet of shoreline where residents can truly enjoy lakefront living at its best. Cottonwood Cove is an ideal place to set up your RV and enjoy all that the Shuswap has to offer. Better yet you can own your own RV site here to enjoy for years to come. Full ownership lots can be purchased here starting at $79,900. You can view the resort and pricing on the Resort Map and see the whole overview on this Cottonwood Video.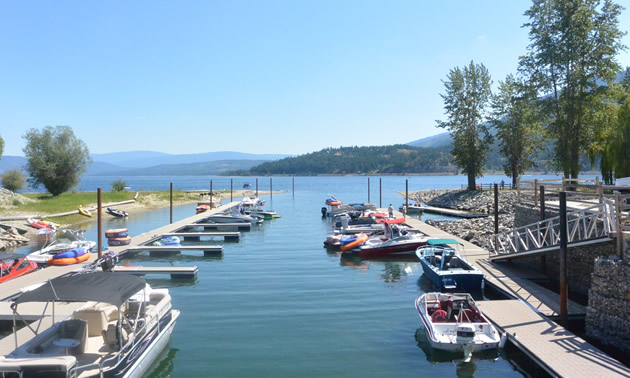 If you would like to try out Cottonwood Cove, you can rent a 40-foot Forest River Cottage Trailer from Cedar Creek RV Rentals located on site at 5 Clubhouse Lane overlooking the cove. Cottonwood Cove has also partnered with Voyager RV to offer Cottonwood Specific Discount Pricing on the purchase of a new RV with your site at Cottonwood plus Cottonwood Bucks' programs for upgrades to your new RV from Voyager.
They have also partnered with the Talking Rock Golf Course just 10 minutes to the west on Little Shuswap Lake. They are offering 25-round specials for new Cottonwood Cove owners and discount programs for renters. This scenic 18-hole course meanders through a sandy mature forest ending with a spectacular 18th hole along the shoreline.
Just 10 minutes off the Trans-Canada Highway, Cottonwood Cove RV Resort can be your RV home site for years to come in this recreational paradise on Shuswap Lake.
For more information or to book your stay at Cottonwood Cove, contact [email protected] or call 1-866-931-3572. Camp with them today, you may decide to stay!