A place of preservation
The Historic Deepwood Estate in Salem houses many memories
by Glynis Fediuk —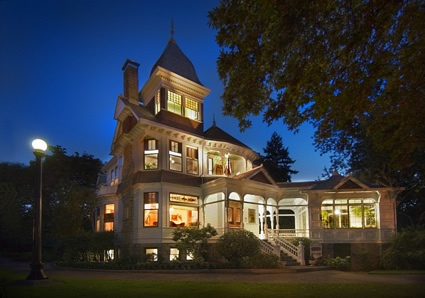 It could have been a parking lot.
The Deepwood Historic Estate is a grand house situated on five acres of pristine English gardens. Constructed in 1894, it is a superb example of Victorian-era architecture, complete with ornate wood panelling and striking stained-glass windows.
"Even though it's a house museum, it almost feels like home," said Betty Murrell, community outreach worker for the Friends of Deepwood. "We try to have a feeling that when you walk in, you feel comfortable."
The estate was originally owned by Dr. Luke Port, though his family—consisting of his wife Lizzie and their two children—never lived in the house. After the death of the Ports' son, the house was sold and was owned by a number of different people over the years.
In the 1970s, when no one was living in Deepwood, there was discussion of demolishing the house to make room for a parking structure. Fortunately, the Friends of Deepwood formed in 1974 and saved the home from destruction.
The immaculately maintained English gardens are a popular attraction within Salem. Designed in 1929 by Lord & Schryver—the first female architectural firm in the Northwest—the gardens are occasionally closed to public access for special events. Deepwood's website lists upcoming happenings on the estate.
There are many vintage pieces in the home, ranging from wedding dresses to a euphonium, that are on permanent or rotating display. Many antique items have been donated, making it an excellent place to learn and marvel at eras gone by. Murell said that many visitors are inspired to share their own stories after seeing the displays at Deepwood.
"It's about stories, not stuff," said Murrell. "But the stuff and the house connect people with stories in their past and (with) our future."