One person's legacy
Created more than 100 years ago, Butchart Gardens on Vancouver Island is appreciated today for its tranquillity and beauty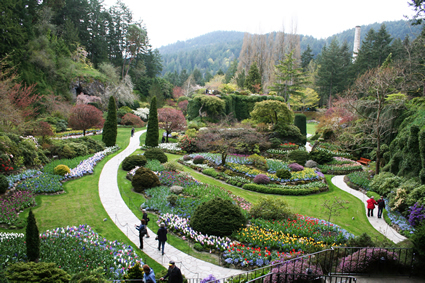 Many of us believe one person can't make a difference, but Butchart Gardens is a shining example that this isn't true.
The vision, dedication and hard work of one person, Jennie Butchart, led to the beautification of an ugly, old limestone quarry—leaving a legacy that has been carried on by four generations of her family. This woman's vision has been enjoyed by thousands and thousands of people over the years and continues to provide a rare place of beauty, colour, tranquillity and solitude for visitors to this day.
We've had the opportunity to visit this unique National Historic Site of Canada—formally recognized in 2004—numerous times over the years. We can easily say that this attraction offers something for everybody, regardless of age or botanical interest. We were exposed to ever-changing plants, trees, shrubs and vistas as we walked along the concrete paths that also provide wheelchair access to the many areas of the gardens.
Symmetry and diversity
Our tour started with the Sunken Garden, which we first saw from a lookout that gave us a panoramic view. After taking in the beauty and symmetry of the garden, we descended to begin our walking tour of this unique, historical, botanical attraction.
The path took us through a series of distinct garden areas: Bog, Rose, Mediterranean, Italian and Japanese. Make sure to notice the well-groomed and abundant lawns and the many ponds and waterways spread throughout the grounds. As we progressed through the gardens, we were impressed with the bronze statues as well as the red Torii Gate, which stands at the entrance to the Japanese Garden.
Each of these gardens displayed flowers, shrubs and trees reflecting that garden's unique theme. It would be impossible to pick one of the gardens as our favourite—each had its own charm and appeal. The diversity of the flora—along with the myriad colours and their placement—is something that can only be appreciated first-hand as you experience the full impact on your senses of sight and smell. Time-consuming development, planning and maintenance of each garden has brought about an aura of tranquillity and peace that is refreshing in these days of hurry up and wait.
If you visit Butchart Gardens at night—as we did on a previous trip a number of years ago—you will find it takes on a surreal appearance, being illuminated by an extensive lighting system.
Indulge your inner child
While visiting Butchart Gardens, take the time to let the child in you surface. You can enjoy a ride on the Rose Carousel, with its beautifully hand-carved animals from around the world—including ones from the ocean. Take an eco-friendly boat tour of Butchart Cove, or enjoy the fireworks show offered every Saturday during the months of July and August. As you stroll through the gardens, rub the well-polished bronze nose of Tacca the Butchart Boar for good luck, as hundreds have done before you.
We are sure that as you leave this beauty behind, you will already be planning your next visit back. It's easy to see why Butchart Gardens invites you step into its five seasons. Though we have not had the pleasure to experience all the seasons, we hope to remedy this in the future.
Over the years, we have seen many attractions throughout Western Canada and the western United States. For beauty, tranquillity, stimulation and lasting impact, Butchart Gardens rates very high with us. No visit to the Saanich Peninsula on Vancouver Island would be complete without experiencing Butchart Gardens.
It is nice to realize that Jennie Butchart's dream and legacy continues to provide enjoyment more than 100 years since the creation of this special place.