World record breaking 3D print in Saskatoon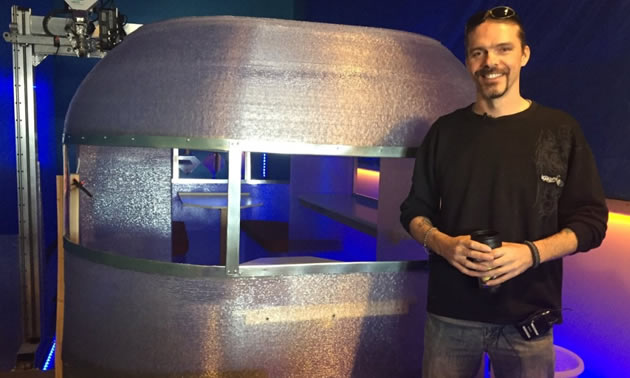 February 21, 2018 – On February 18th, 2018 Saskatoon businesses Create Café 3D Printing Solutions Inc. and Wave of the Future 3D successfully printed the world's largest indoor 3D print – that you can sleep in!
The large-scale print named The Wave – is a full-size 3D printed camper that Randy Janes believes will reshape the RV industry. The monolithic print measures in at 13ft x 6.5ft x 6ft which is 3.5 times larger than the previous Guinness World Record held by Oak Ridge National Laboratory for a 3D printed tool used on a Boeing airplane wing.
Janes, co-owner of Create Café and sole owner of Wave of the Future 3D, was a product specialist for Oak Centre RV Mall and has been working on this ambitious project for 2 years. The printing process took 9.5 days with over 230 hours of continuous operation to complete the first prototype. Future prints should take no more than a week to produce a fully 3D printed camper unit. The first print of The Wave was a success and the team at Create Cafe is looking forward to leading innovation in large-scale printing for clients internationally. Janes hopes to revolutionize the RV industry with his 3D solution and produce the one-piece camper design for retail purposes by the end of 2018.
Janes acquired a custom 3D printer from ErectorBot, nicknamed Printron, capable of a build as large as 28ft x 8ft x 7ft. Janes reached out to the team at Create Café in the summer of 2016 and a business partnership formed. Create Café saw the partnership with Janes as a win-win to work on the cutting edge of 3D printing and display the technology in a welcoming café environment. Sask Polytechnic assisted with research and development that was required to achieve a print at this scale. Lance Greene, CPO and co-owner of Create Café, designed the custom high-flow nozzles for Printron. Sask Polytechnic produced the custom nozzles through an applied research grant at their facilities.
Create Café 3D Printing Solutions Inc. is a professional services café that focuses on education and business solutions through 3D printing. The vision of Create Café is to enable all individuals and industries to achieve their vision utilizing 3D printing. Create Café offers a full solution for businesses and individuals from conception to holding the solution in your hands. "There is no project too big or too small" states Dustin Maki, CEO and founder of Create Café. Working with Janes on The Wave has been Create Café's biggest project to date.
The main benefits of The Wave over traditionally manufactured campers are:
100 year life expectancy- PETG is a commonly used 3D printing material that is abrasion resistant and eliminates water damage.
One-piece print - The uni-body design produces a stronger structure and reduces manual labour.
Fully customizable- including colour, windows, layout, and appliances.