Top ten great photos of bears on the golf course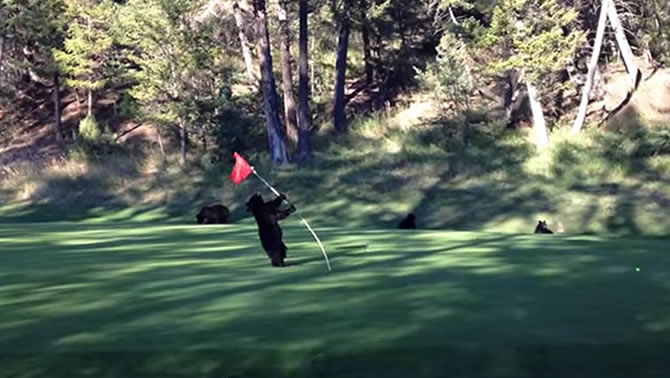 When playing golf in western Canada and the Pacific Northwest is it not uncommon to encounter some wildlife on the fairways. By wildlife we mean bears! Bears are a common sight and are often curious about these interesting humans intent on chasing a little white ball through the forest. Golfers are encouraged to give the bears a wide berth and keep on playing. Remember, it's just another one of golf's many "hazards" to avoid.

#1 - This frolicking bear captured on video at the Fairmont Hot Spring Mountainside Golf Course in the Kootenay Rockies, a couple of years ago, is a hoot to watch. Watch the video here.
#2 - You can see why this photo is tagged "The Bear and Nicklaus North." Jack "The Golden Bear" Nicklaus would be proud of his namesake.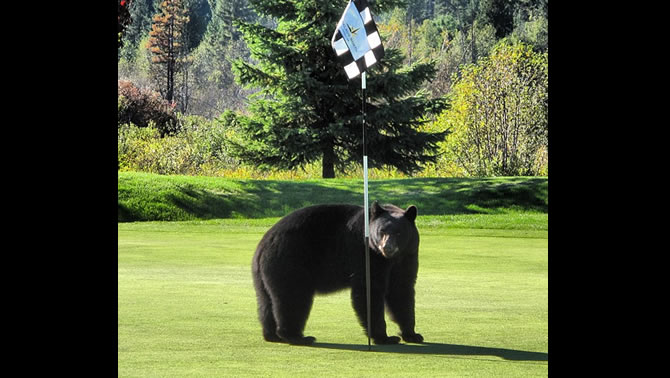 #3 - Another Whistler black bear enjoying a little play time shredding the flag on a Whistler golf course. Who says golf has to be a serious game?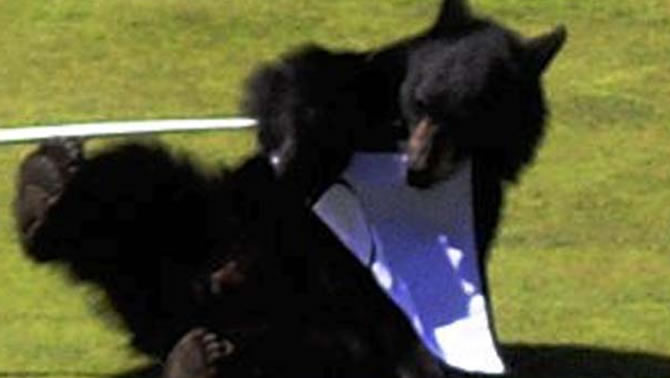 #4 - Mama bear and two cubs meander across the fairway at the Stanley Thompson designed Waterton Lake Golf Course. Bear sightings are common on this National Park course.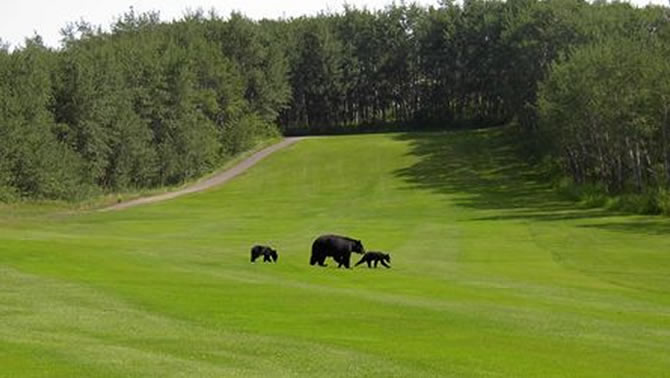 #5 - Photographer Charles Lindsay took this shot at the Yellowstone Club, in Big Sky, Montana. The golf course is regularly visited by bears. This shot seems like it might have been staged to me?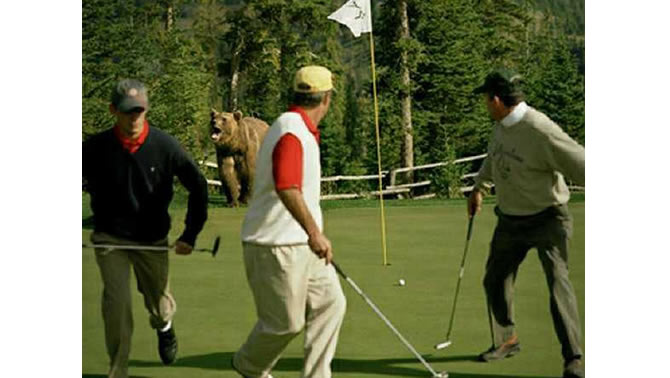 #6 - Bears, Bears, Bears….It was another active bear season at the Whistler Golf Club. The bears are back now this fall grazing in our naturalized areas to bulk up for the winter. Thanks to everyone who posted photos on social media this season, says the golf pro at the Whistler Golf Club.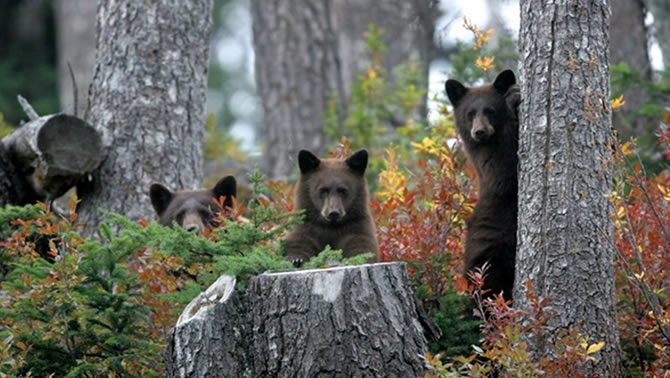 #7 - Here's another hilarious video of two bears beating up on the flagstick on the green at Waterton's National Park golf course. Who can blame these bears for having so much fun on a beautiful sunny day in the Rockies? Golfers were encouraged to pick up their balls and play around these two fun-loving bruins. Watch the video here.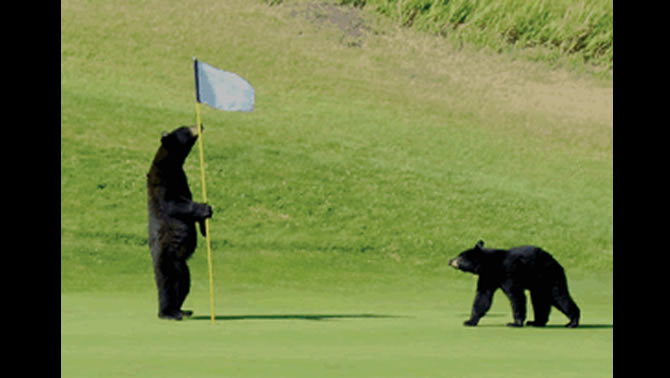 #8 - Coming face-to-face with this big old bear might give a golfer cause for pause. This Flickr photo shows a big bear staring down a golfer on an unidentified golf course.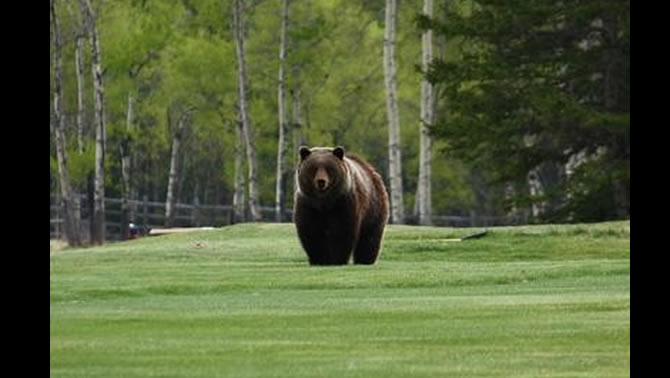 #9 - You can just imagine the excitement this Grizzly caused at Panorama's Grey Wolf Golf Course as it streaked across the 18th green.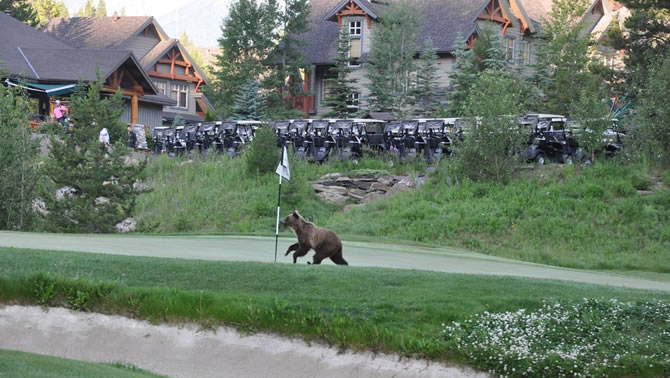 #10 - This vintage postcard of 3 bears on Jasper Park Lodge Golf Course from 1940, really makes this foursome a bit crowded. Evidently these were "tamed" bears brought in for the "entertainment" of visiting golfers.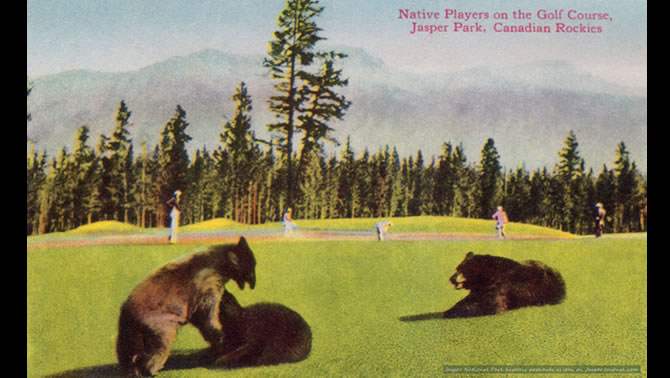 Photos: Various sources including the mentioned golf courses.