The 2018 edition of "Camp-California! The camper's guide to California" is now out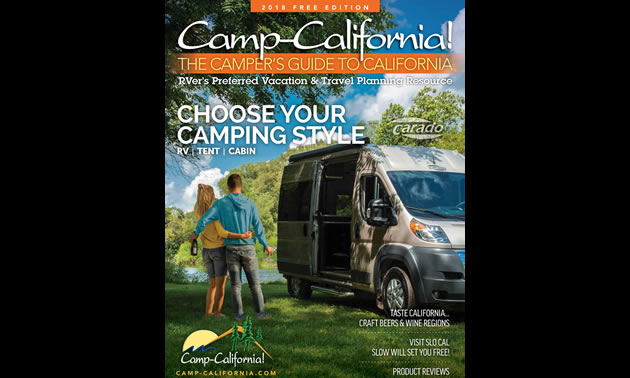 Consumers looking to plan a weekend getaway or a dream vacation in California now have a new resource available to them at no cost. Camp-California.com has produced 225,000 printed copies of the 2018 edition of its award-winning directory, Camp-California! The Camper's Guide to California, which are available free of charge on a first come, first serve basis.
The magazine style directory is an invaluable consumer resource because it lists nearly 300 mostly privately owned and operated campgrounds, RV parks and resorts that are not listed on recreation.gov or other government websites.
"We provide consumers with information on campgrounds and RV parks they would not otherwise find using government websites," said Debbie Sipe, CEO of Camp-California.com.
While the 80-page printed campground directory does not provide all of the travel planning content that is available on Camp-California.com, it does serve as a useful quick reference not only for campgrounds, but for food and wine festivals and other special events taking place this year in different regions of California, including stories on Lodi, Bakersfield and San Luis Obispo County as well as craft beers and product reviews.
A digital version of the directory is available on Camp-California.com and includes links to more extensive campground and special event listing information as well as advertiser websites. Camp-California.com and the digital version of the printed campground directory have also been redesigned to be compatible with mobile-, tablet-and desktop friendly formats, courtesy of La Quinta, Calif.-based Big Rig Media, LLC.
The photos, videos and social media postings of each campground, RV park and resort have also been integrated into Camp-California.com, which also now has the ability to show consumers appropriate online advertisements about campgrounds as well as camping and RV supplies based on the consumer's IP address, said Jeff Beyer, CEO of Big Rig Media.
However, Sipe said there continues to be considerable market demand for a printed campground directory.
"We find that consumers like to have a printed directory to take with them when they travel because it's faster and easier to use than a smart phone, and it doesn't burn up any precious Internet data," Sipe said. "It's also more reliable in outlying rural areas where cellphone service is still spotty."
The Camp-California! guide includes amenity grids for campgrounds in each region of the state that highlight 17 different types of amenities, such as swimming pools, laundry facilities, rental accommodations and WiFi service. Brief descriptive write-ups, locator maps, websites, telephone and contact information are also provided for each park.
The 2018 edition of the award-winning directory is free for the asking by calling (530) 885-1624. Camping enthusiasts only need to pay for the postage required to send the directory to them. Camp-California.com also has a listing of locations where consumers can pick up the print directory on their own.
Camp-California! The Camper's Guide to California has received the State Directory of the Year Award from the National Association of RV Parks and Campgrounds in eight competitions involving state campground associations. The guides are being distributed at all California Camping World locations, Bass Pro Super Stores, all 14 California Welcome Centers, the California RV Show, as well as through affiliated member campgrounds, RV dealers and service centers.
The camper's guide is provided to consumers free of charge by members of the California Association of RV Parks and Campgrounds, many of which are family owned and operated. The directory is also supported by a growing base of advertisers, including campgrounds and RV aftermarket suppliers.
"Our advertiser base is growing more and more," Sipe said, adding, "Businesses that market to RVers are finding Camp-California! to be a successful medium."
For more information, visit Camp-California.com.