Southern Arizona events keep snowbirds busy over the fall and winter months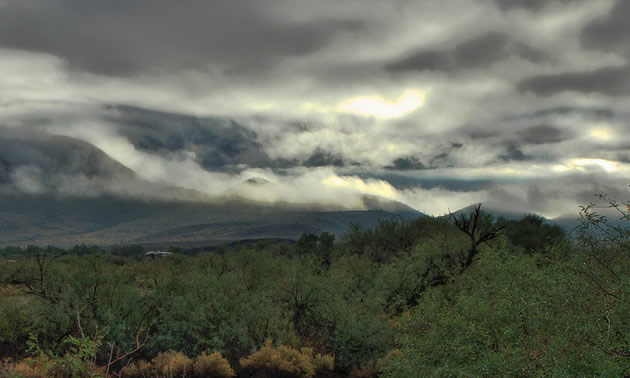 TOMBSTONE, Arizona, October 2016 — Snowbirds have already started arriving at Tombstone RV Park in Tombstone. Recently the Park celebrated the city's famous Helldorado Days festival. The celebration included live music and street entertainment, including gunfight reenactments. But according to Tombstone RV Park's owners, snowbirds not only come for Helldorado Days (www.tombstonehelldoradodays.com). Many of them also stay through the winter.
"Turns out, there's lots to do in southern Arizona," said Jo Ann Mickelson, executive director of the Arizona Association of RV Parks and Campgrounds, which hosts a travel planning website at GoCampingInArizona.com.
Many snowbirds use campgrounds and RV parks listed on GoCampingInArizona.com as base camps that enable them to make excursions to various fall festivals and scenic attractions across the southern part of the state from Tombstone to Tucson.
Here's a sampling of some of the unique activities taking place across southern Arizona this fall and winter:
All Souls Procession in Tucson: Tucson has a major procession on November 6 in celebration of the Mexican Dia de los Muertos, which honors the memory of family members and friends who have died. The procession starts at sunset at 6th Avenue and 6th Street in downtown Tucson and includes people walking with elaborate, creative and even macabre costumes as well as parade style floats. Visit www.allsoulsprocession.org for more information.
La Fiesta de Tumacacori: This event takes place December 3 - 4 at Tumacacori National Historic Park, 45 miles south of Tucson, where Spanish missionary Eusebio Francisco Kino established his first mission in Arizona near the Santa Cruz River. Guides will lead tours of the mission and walks along the Santa Cruz River. There will also be craft making activities, pinatas and roughly 50 traditional food and craft booths. Visit www.nps.gov/tuma
Luminaria Nights / Fiesta de Navidad in Tubac: From December 2 - 3 Tubac's streets will be lined with luminarias, which are votive candles that are set inside small paper bags that are weighted down with sand. The luminarias provide a special sense of holiday atmosphere in Tubac's downtown area, where vendors offer homemade food and refreshments as visitors check out the art shops and enjoy holiday music. www.tubacaz.com.
Wings Over Wilcox Birding and Nature Festival: This event, scheduled for January 12 - 15, honors the sandhill cranes, hawks, owls, eagles and roughly 500 other species of birds that make their temporary or permanent home in Willcox area. Activities include birding and photography tours as well as activities for children. www.wingsoverwillcox.com.
Tucson Gem, Mineral & Fossil Showcase: This January 28 to Feb. 12 event is the world's largest gathering of gem, mineral, fossil buyers and sellers. Hundreds of dealers set up shop in various venues around town including the Tucson Convention Center to buy and sell gems and minerals. www.VisitTucson.org.
Cochise Cowboy Poetry & Music Gathering in Sierra Vista: This event, slated for February 3 - 5, is an annual gathering of poets, musicians, singers and storytellers. www.cowboypoets.com.
Tubac Festival of the Arts: This February 8 - 12 event, the oldest art festival in southern Arizona, is Tubac's largest art show of the year, featuring about 170 visiting artists. www.tubacaz.com
La Fiesta de los Vaqueros in Tucson: This February 18 - 26 event at the Tucson Rodeo Grounds features a parade as well as various rodeo competitions sanctioned by the Professional Rodeo Cowboys Association. www.tucsonrodeoparade.org.
Based in Phoenix, the Arizona Association of RV Parks & Campgrounds markets campgrounds, RV parks and resorts through GoCampingInArizona.com and its printed campground and RV park directory, the 2016 RV and Camping Guide to Arizona, which is available free of charge in online. The 32-page color guide contains a travel planning map as well as detailed descriptions of more than 60 campgrounds.
The camping guide is available in digital format on GoCampingInArizona.com and can also be ordered by emailing a request to [email protected].
by Roxi Baxley and Jeff Crider on behalf of the Arizona Association of RV Parks & Campgrounds.