Snowbird golf list: top 10 longest yardage golf courses of Palm Springs and area
With thousands of Canadians flocking to Palm Springs, California every winter the area has become one of the leading golf destinations in the west. The greater Palm Springs area sports some 39 golf courses and its total playable yardage adds up to 258,685 yards or the equivalent of 147 miles of fairways. Of these 39 golf courses thirteen of them offer up playable yardage of over 7,000 yards. So we thought you might be curious about what Palm Spring golf courses offer the longest yardage. Here is a list that might inspire an avid Canadian snowbird golfer to add one of these longest yardage layouts to their bucket list.
Here are the top 10 longest yardage golf courses of Palm Springs and area:
SilverRock Resort – La Quinta – Silver tees 7,578
At 7,578 yards this is the granddaddy of long courses in the Palm Springs area. This is Nick Faldo's first course design on the West Coast. It opened in 1999. Surrounded by stunning views and graced with a spectacular course design – the Marriott's Shadow Ridge Golf Club is set against the beautiful backdrop of the snow-capped Santa Rosa Mountains in Palm Desert, California. Nick Faldo's vast international experience and passion for strategic design and detail are clearly in evidence at the Shadow Ridge Golf Course.
Indian Wells Golf Resort (Players) – Indian Wells – Cabernet tees 7,376
Indian Wells Golf Resort, which opened to the public November 27, 2007, features wide playing corridors, traditional rectangular tee boxes and sculpted bunkers. Most of the holes are oriented to take full advantage of the jaw-dropping views of the surrounding mountain ranges and majestic Eisenhower Mountain to the south. It was designed by golf architect John Fought. Often called "one of the finest new courses in the western United States."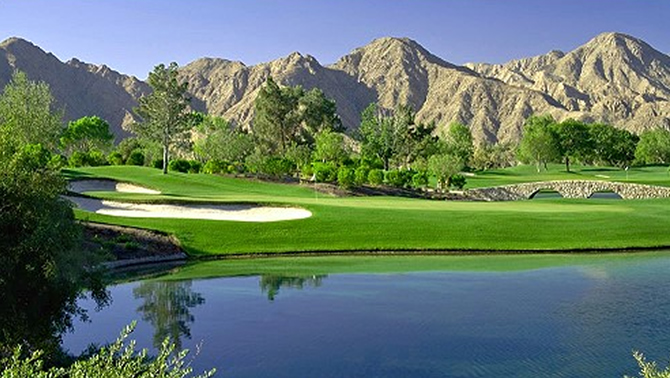 Classic Club – Palm Desert – Black tees 7,322
The Classic Club is a semi-private, high end, daily fee golf facility. Designed by Arnold Palmer Company with input from the PGA Tour. Classic Club features over 5,000 Pine, California Pepper & Olive Trees with 11,000 cubic yards of mulch and pine straw, and 30 acres of lake and water features, including 14 stone bridges. This 18 hole, par-72, 7,305 yard unique Arnold Palmer-designed course offers a variety of tee options, appealing to players at all levels of the game. Opened in 2006.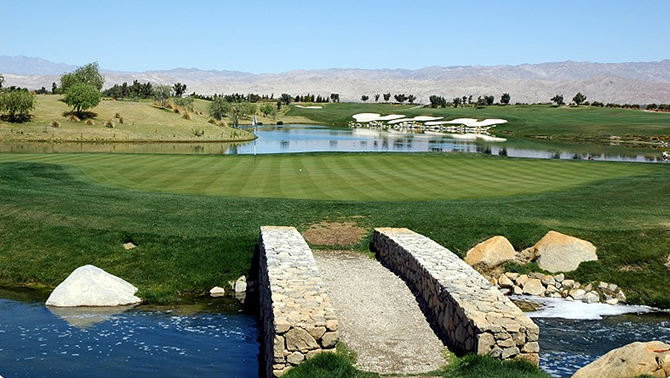 PGA West – TPC Stadium Club – La Quinta – Tournament tees 7,300
The original home of the Skins Game, the PGA West TPC Stadium Course has been viewed by millions on TV. The ultimate challenge awaits you at this "see it to believe it " golf course. Packed with pot bunkers, sand, water and sidehill lies. This marvelous course is ranked in The 100 Greatest Courses in the U.S. by Golf Magazine. Open for play in 1986 and was designed by Pete Dye.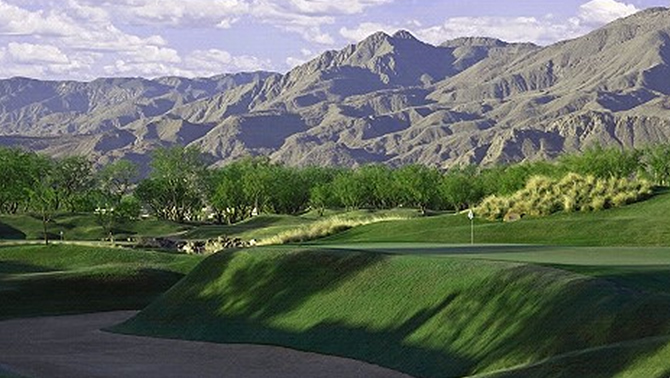 PGA West – Jack Nicklaus Course – La Quinta – Tournament tees 7,204
The Jack Nicklaus is a tamer version of the PGA West TPC Stadium Course. Elevated ties, forced carries over water and huge, multi-tiered greens are signatures of the Jack Nicklaus trademark. Bent greens. It features contoured fairways, undulating greens and deep sand bunkers. Opened for play in 1987.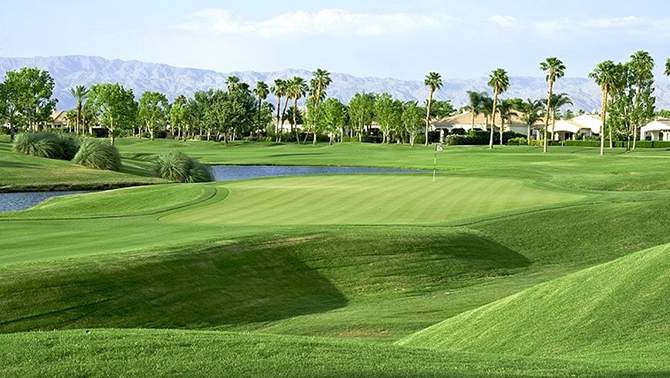 The Golf Club at La Quinta – La Quinta – Skins tees 7,174
Several sets of tee boxes, including the Skins tees that play at nearly 7,200 yards, provide a length that is just right for your golf game. Dramatic water features and sand perils complement the golf course fairways, leading to the rolling greens. Situated in the natural California desert landscape of the surrounding Coachella Valley. 4 out 4 star rated by Golf Digest magazine.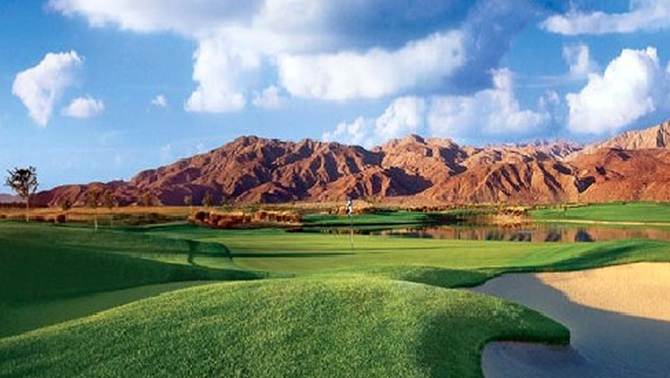 Escena Golf Course – Palm Springs – Tournament tees 7,173
The Escena Golf Club is the essence of the revitalization and repositioning of Palm Springs as a cosmopolitan desert retreat. This beautiful golf course is set amidst the panoramic beauty of the desert mountains. The Escena Golf Club features a public 18-hole championship golf course by the legendary Nicklaus and his design team.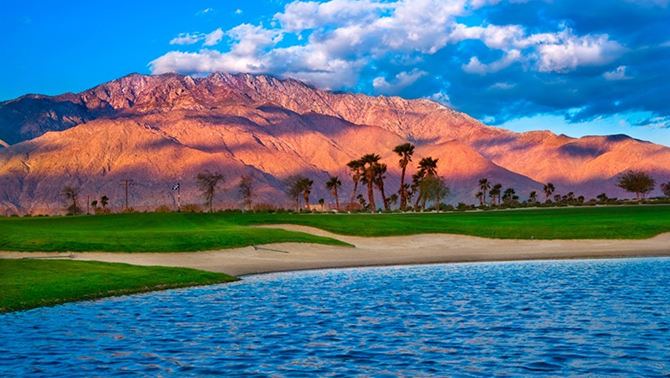 PGA West – Greg Norman Course – La Quinta – Tournament tees 7,156
The stunning PGA West Greg Norman Course lies in a seabed 40-feet below sea level surrounded by an immense crescent of terra-cotta mountains and is home to the Wallaby Wallop. The course teems with purple, white and yellow wildflowers, while the mix of tall and short native grasses produce different shades of green running almost to silver. The grass covers just 60 acres of tight fairways that taper toward the greens with nine ponds covering 18 acres. Open since 1999, see why the "Shark" loves this course.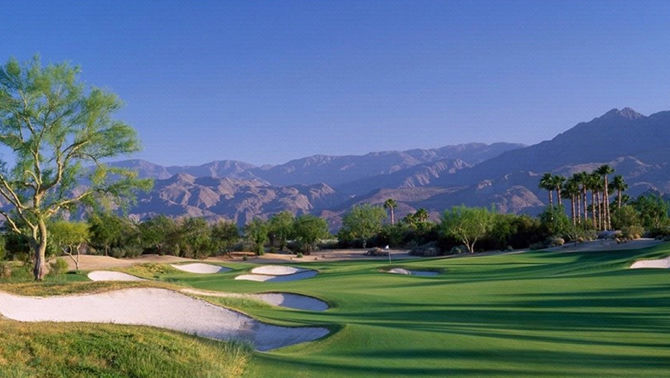 Mission Hills North – Gary Player Signature Course – Rancho Mirage – Black tees 7,062
This course opened in 1991. The first and only Gary Player course in the desert, the Mission Hills North Course is designed for golfers of all levels. It definitely preserves and enhances the natural beauty of the Rancho Mirage desert environment. It features 20 acres of lakes, four waterfalls and beautiful landscaping. The longer of the two championship golf courses, the Gary Player course plays to 7,062 yards at a par 72.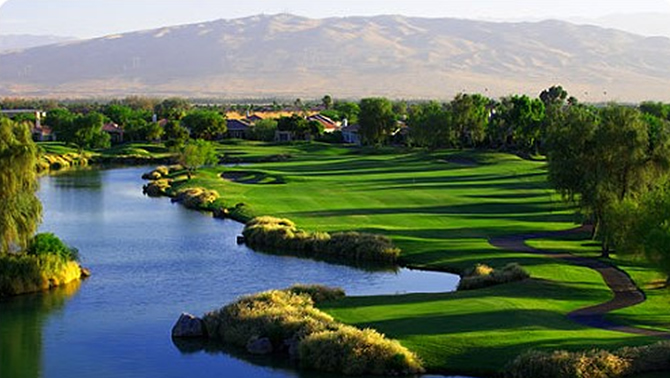 Desert Willow Golf Resort (Firecliff) – Palm Desert – Black tees (Firecliff) 7,056
Desert Willow Golf Resort features two beautiful courses designed by Michael Hurdzan, Dana Frye and John Cook with large lakes, desert wasteland and bunkers featured throughout. Firecliff, the longer of the two courses measuring 7,056 yards, is a true test of skill where golfers must negotiate their way around extensive natural areas, numerous water features, and more than 100 bunkers/waste areas. While enjoying your round remember to take in your surroundings and appreciate the Desert Willow views and beauty. In play since 1997.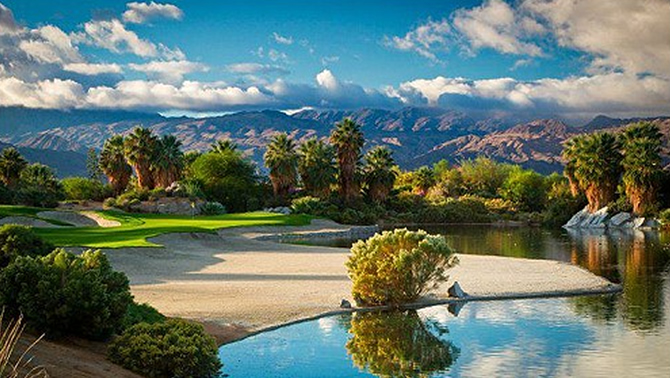 Here are three more courses in the Palm Springs area that round out the +7,000 club:
Indian Wells Golf Resort (Celebrity) – Indian Wells – Cabernet tees 7,050
The Club at Terra Lago – Indio – Professional tees 7,044
Shadow Ridge Golf Course – Palm Desert – Black tees 7,006
Source material and photos: various golf course websites.
Disclaimer: Though we have researched this information carefully, we can not guarantee the accuracy of the information presented. It is published to help promote golf in the Palm Springs region—please notify us directly if you have any comments or corrections.