Jellystone Parks mark 50th anniversary with record sales and growth
by Jeff Crider —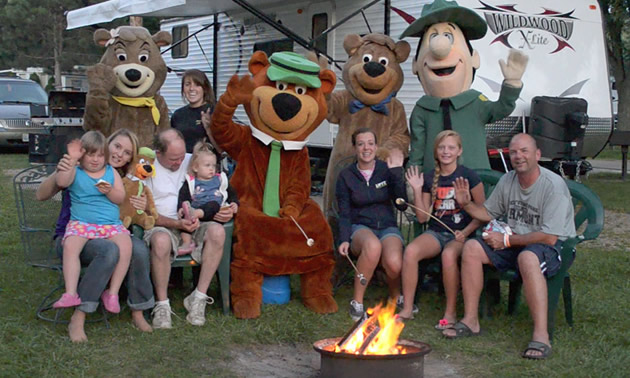 Bolstered by millennials' rapidly growing interest in camping, Yogi Bear's Jellystone Park Camp-Resorts is on track for its 11th straight year of record sales as it celebrates its 50th anniversary. North America's largest franchised family camping chain, Jellystone Park, announced new resorts will open in Ohio and Texas in 2020. There are Jellystone Parks in Ontario, Nova Scotia and New Brunswick.
Overall revenue through the first six months of the year is up 10% with same location sales up 12% year-over-year. This follows a 6% sales increase in 2018, the company's highest revenue year ever.
Ground recently was broken for a new location near Waco, Texas, and a development deal was just signed for a new resort near Dayton, Ohio. Both will open next year. A new Jellystone Park location opened this spring in Southern Ohio. A number of locations recently completed major expansions or have them underway, including ones owned by Sun Communities, Northgate Resorts and others.
In July 1969, entrepreneur Douglas Haag opened the first Jellystone Park in Sturgeon Bay, Wisconsin. He called it destination camping, which evolved into what families now call glamping. Haag's park featured miniature golf, a heated swimming pool, sports facilities, an outdoor theater, and a store selling supplies and Yogi Bear-themed souvenirs. Yogi Bear, Boo Boo and Cindy Bear entertained kids.
"Douglas' vision was brilliant, way ahead of its time," said Rob Schutter, chief executive of Leisure Systems, Inc., which franchises the chain. Today there are more than 75 Jellystone Park locations in the U.S. and Canada. They feature amenities including pools, water slides, splashgrounds and Wi-Fi, as well as activities such as jumping pillows, mini golf, wagon rides, Yogi Bear character interactions and special theme weekends. Guests choose from premium cabins and yurts, deluxe RV sites and tent sites.
"While the Jellystone Park experience has been upgraded and expanded over the years, it still centers on providing families with an opportunity to spend time together and enjoy activities outdoors, which is even more important today than it was 50 years ago," Schutter added,"That's why the brand is so appealing to both families and new owners and investors."
Schutter noted that experts often say remaining relevant is a big challenge for older brands. "Jellystone Park's continuous growth proves that an industry pioneer can overcome that challenge and continue to be an innovator and a leader, even after five decades."
He added that along with campground operators, the brand is seeing increased interest from a wider variety of franchisees, including hospitality management firms, storage facility owners and real estate developers. Jellystone Park's leadership team will meet with prospective franchisees at the next Jellystone Park 101 workshop in Charleston, South Carolina, on Nov. 10. Details at JellystoneFranchise.com/workshop.