Jason Bell wins the prestigious 2017 Canadian RV Dealer of the Year Award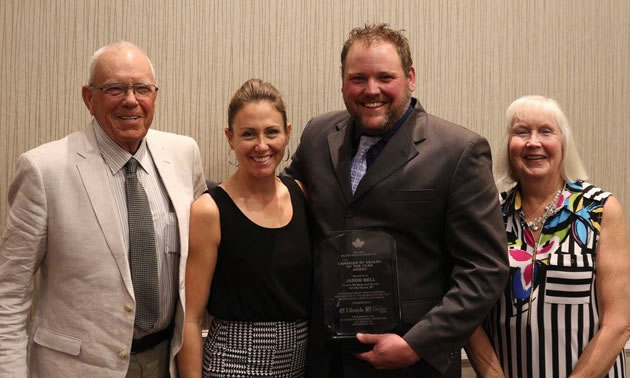 Jason Bell of Chemo RV Sales and Service in 150 Mile House, BC was presented with the prestigious 2017 Canadian RV Dealer of the Year Award today at the RVDA of Canada's Annual Meeting held at the RV Dealers Convention/Expo in Las Vegas, NV.
Mr. Bell was clearly moved when announced as this year's recipient. He graciously accepted the award while surrounded by family, friends and colleagues. "Thank you. I am truly humbled, I am very blessed to have the opportunity to work in such a remarkable industry," said Bell, as Melanie Taylor, from RV Lifestyle Magazine, presented him with the Walter Paseska Memorial Canadian RV Dealer of the Year Award.
"Receiving this award is a great honour. An honour this is compounded by the fact that my wife and my parents are able to be here with me today." Jason Bell's father Jack was the recipient of the 2004 Canadian RV Dealer of the Year Award. This is the first time that a father and son have both been honoured with the same recognition.
Each year, the RVDA of Canada, in conjunction with RV Lifestyle Magazine and Dealer News, invites nominations from across Canada for the Canadian RV Dealer of the Year Award. The award is dedicated to the memory of the late Walt Paseska, founder of Walt's Trailer Sales in Headingley, Manitoba, in recognition of his many years of commitment and dedication to the RV industry. Since established in 1989 by Camping Canada Magazine, this award has been presented to individuals who share Walt's enthusiasm and commitment, in recognition of their long-term contribution to the RV lifestyle, and commitment to the community as a whole.
The award is presented to a candidate who has:
Demonstrated long-term dedication to the RV industry and promotion of the RV lifestyle by the acting dealer principal of a recognized full service RV dealership
Shown commitment and participation in the RVDA at the provincial or national level;
Been recognized by customers and peers as a person with the highest integrity and credibility in both work and personal life, and
Made a contribution to their community.
Chemo RV which has locations in both Quesnel and 150 Mile House, British Columbia, is a family-owned and operated RV dealership that prides itself in providing quality products and services for RV enthusiasts. Initially founded in 1975 by Jason's father Jack, the dealerships have been serving the Cariboo region for over 40 years.
Jason Bell became dealer principal 10 years ago. During that time, he has continued to exceed the needs of his customers by providing high quality products and customer service. Jason has also been a strong supporter of the RV trade associations over the years, both in BC as well as nationally. Jason served as a Board member of the RVDA of BC, eventually moving through the executive ranks as Treasurer, Vice-President, President and now Past President. He chaired the RVDA of BC golf tournament committee for several years and is always one of the first to step up to help with the association's fundraising events. At the national level, Jason has served on the RVDA of Canada board as a director and sat on the national education bursary selection committee.
Jason Bell and Chemo RV is active in sponsoring numerous events throughout the BC Cariboo region, including the famous Williams Lake Stampede, Billy Barker Days in Quesnel, Canada Day music festivals, fishing derbies, golf tournaments in the Cariboo and fundraisers for the less fortunate. Of particular note, Chemo RV supplied incredible support to first responders who were combating the aggressive wildfires in BC this past summer. Not only did Jason deliver food, water and supplies directly to those that could not leave their post, his dealership also supplied 24 RVs as temporary housing for those on duty.
Furthermore, in support of communities and the province, Chemo RV donated $1000 per RV sold between July 1st and Sept 30th of this year to the Canadian Red Cross fundraising efforts to support those impacted by the fires in BC. They were pleased to be able to make a donation of $54,000 that was given to two fire departments and the Canadian Red Cross.
Along with our winner, the nominees for this year's Award were:
Chris Chegus, Chegus RV Sales, Watson, SK
Kevin Cropper, Cropper Motors, Naicam, SK
Roland Goreski, Campkin's Camping Centre, Whitby, ON
Congratulations to Jason and to all nominees, who have made outstanding contributions to the RV industry!