Growing numbers of snowbirds are venturing into off-road adventures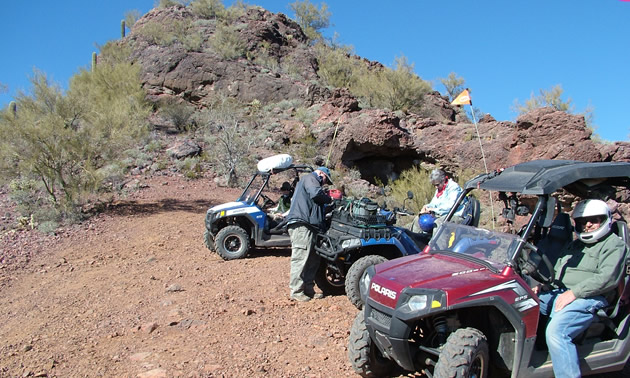 GILA BEND AND SALOME, Ariz., March 23, 2017 — The Phoenix and Tucson areas are loaded with RV parks and resorts that cater to snowbirds with organized activities and special events to keep them entertained throughout the winter season.
But venture out into some of the more remote areas of the Grand Canyon State and you'll find people like 68-year- old Ted Werner of Connecticut.
Werner and his wife, Jan, are among a growing number of off road vehicle enthusiasts who come to Arizona every winter and spring not to tear up the landscape, but to explore remote historical sites that most people never see.
Using the Gila Bend KOA in Gila Bend as their base camp, the Werners take off once or twice a week with as many as a dozen or more friends in seven or eight off road vehicles to explore Arizona's backcountry in their Polaris Ranger RZR Side by Side. The Werners camp in a 2015 38-foot Excel 36GKE 5th wheel trailer, which they tow with a 2011 Ford F-550 hauler.
"It's an amazing experience," Werner said, a retired high school teacher with a love of history. "In the Gila Bend area, we have the original Indian travel routes, the Juan Bautista de Anza Historic Trail, the historic Butterfield Overland Stage Route and the route used by the Mormon Battalion. There are places where we can see the wagon ruts in the rock, so you can very clearly see where they went through. In our travels, we've also seen artifacts from the Native Americans as well as the miners. It's very exciting."
RV parks in some of the more remote locations of Arizona are seeing growing numbers of snowbirds who tow various types of off-road vehiclesbehind their RVs, said Jo Ann Mickelson, executive director of the Arizona Association of RV Parks and Campgrounds, which hosts a travel planning website at GoCampingInArizona.com.
"More and more snowbirds are wanting to get off the beaten path and see not only historical sites, but beautiful mountains and desert canyons that are not accessible unless you have a four-wheel- drive vehicle," she said.
One of the Werners' favorite places to visit is Sears Point, an ancient archaeological site about 40 miles west of Gila Bend that includes petroglyphs and aboriginal foot trails.
"You can see petroglyphs from three different cultures on the rocks in that area," Werner said.
Another fascinating site, he said, is the "Bouse Fisherman," a Native American intaglio or earthen image that can be seen by air. This intaglio, one of several in southwestern Arizona, features a man holding a spear with two images of fish below his feet. First discovered by air in 1932, the Bouse Fisherman is located in the Plomosa Mountains near the road from Bouse to Quartzsite.
Some snowbirds come to Arizona specifically to explore the state's most remote areas, including Bill Gelhaus and his wife, Judy, of Wisconsin, who make their winter base camp at Black Rock RV Village in Salome.
The Gelhauses travel in their 40-foot Tiffin motorhome, but explore the backcountry in a 1968 Volkswagen Baja.
"There are mines you can see with mine shafts and tunnels," Gelhaus said, adding that a website at www.mindat.org provides information and locations of historical mines and minerals in Arizona and other states across the country.
"It's really interesting seeing these places. You can be like a history hunter. You're traveling back into the late 1800s and early 1900s. This was a really wild era. Their life expectancy was only 40 years old," Gelhaus said, adding, "We come across unmarked graves in the desert."
In addition to seeing historical sites, the Gelhauses also like to travel with friends into remote scenic areas, including the Granite Wash Mountains and Red Rock Canyon, a remote slot canyon with 40-foot high canyon walls about 75 miles northeast of Black Rock RV Village.
Werner said he and his wife are avid hikers, but they got interested in off-roading as a practical way of seeing places that would otherwise be too far to reach on foot.
"In Arizona," he said, "the mountains you see in the distance are 10 or 15 miles away. So you've got a lot of hiking to get there. But with an off-road vehicle, you can ride out, and then hike."
And at this time of year, he said, the views of the wildflowers are spectacular. "They are coming out like crazy," he said. "It's a rainbow out there," Gelhaus said, adding, "Until you get your feet in the desert, you don't know how beautiful it is."
Both the Werners and the Gelhauses have developed so much knowledge and expertise on southwest Arizona's backroads that they often serve as tour guides for snowbirds at their respective RV parks or share their maps and information with other snowbirds who want to go off on their own.
"People are using Google maps to create the maps of where they want to go. We also share our information and maps," said Werner, who uses a GPS device to plot routes across desert backroads to various scenic and historic sites. The U.S. Bureau of Land Management also has detailed maps of backcountry areas, which are available at BLM offices and online at www.blm.gov.
Werner said he has also found a couple of guidebooks to be extremely helpful, including Guide to Arizona Backroads & 4-Wheel-Drive Trails by Charles Wells and Matt Peterson and The Rocks Begin To Speak, a guide to understanding Indian rock writing by Lavan Martineau.
Both the Gila Bend KOA and Black Rock RV Village are members of the Arizona Association of RV Parks and Campgrounds. For more information on campgrounds, RV parks and resorts in Arizona, please visit www.GoCampingInArizona.com.