Government to invest more than $1.3 million in northeastern provincial parks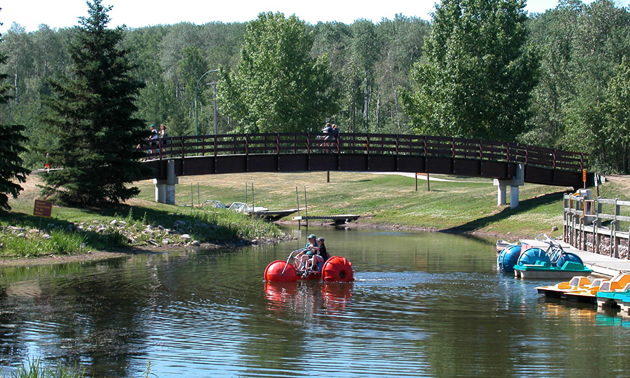 The Government of Saskatchewan is investing more than $1.3 million in capital upgrades at two northeastern provincial parks: Greenwater Lake and Narrow Hills. The water treatment system at Greenwater Lake will be upgraded and a new service centre will be built at Narrow Hills.
"Provincial parks are an important part of Saskatchewan's quality of life and are more popular than ever," Parks, Culture and Sport Minister Mark Docherty said. "Projects like these help to ensure that visitors to our parks have a great experience."
At Narrow Hills Provincial Park, a new service centre will be built at the Lower Fishing Lake Campground. This project will enhance the camping experience at Narrow Hills by providing brand new showers and washrooms for park users. The successful bidder on this project was RNF Ventures Ltd. of Prince Albert.
The water treatment system at Greenwater Lake Provincial Park will also be upgraded, including the installation of a new membrane treatment process. The successful completion of the project will ensure safe drinking water at the park for years to come. The successful bidder on this work was Allan Construction Partnership Ltd. of Saskatoon.
Work on these two projects will begin early this fall and are scheduled to be complete for the 2017 parks season.
In 2015, government met its commitment of investing an additional $10 million over four years into the provincial park system, for a total investment of $53 million in capital projects and maintenance over that four year time frame.
Projects undertaken as part of this commitment include the development of two new campgrounds, upgrading or replacement of service centres, extensive campsite electrical expansion and upgrading, water and wastewater system upgrades, new and enhanced boat launches, and new campsite furnishings.
Total funding for the provincial parks system since 2007 is more than $200 million. This funding includes capital expenditures and investment, operational funding, and parks programming. New programs are being offered in provincial parks such as the Learn to Camp program, Learn to Fish program, and the Cultural Access Pass, which provides newcomers free entry to day-use areas within parks.