Cruise Inn RV Parks launch—Did You See That? Contest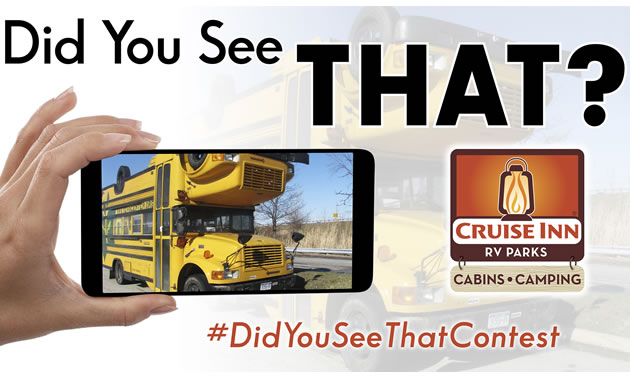 Planning to travel to the USA this summer? Be sure to watch for a giant ball of yarn in Kansas, giant teapots in West Virginia, talking cows in Wisconsin – it doesn't matter where you travel, there's always something zany and silly to see.
Cruise Inn® RV Parks and Campgrounds is giving you the opportunity to share some of those great travel memories and photos for a chance to win prizes through its summer promotion, Did You See That?
From now through to August 15, 2016, post an entertaining photo of the craziest thing you've seen while traveling on Cruise Inn's Facebook or Instagram page with the hashtag #didyouseethatcontest. People can enter multiple times and must be at least 18 years old to participate.
Each week, a lucky entrant will be randomly awarded either a $50 gas card or $50 RV accessories gift card. At the end of the promotion, someone who shared a photo will be randomly awarded the grand prize, which consists of seven nights of continuous stays at any Cruise Inn park(s) and reimbursement of gas expenses during that seven-day period.
"Cruise Inn guests log a lot of miles on the road each year, so we can't imagine the crazy things they've encountered. It's going to be a lot of fun to see the photos they share with us over the next three months," said Cruise Inn President & CEO Scott Anderson.
Backed by 125+ years of overall hospitality expertise, Cruise Inn is the most exciting development to hit the outdoor hospitality industry in years. Its network of RV Parks offers guests reliable, comfortable and welcoming facilities, as well as a quality, consistent experience at a reasonable price.
Visit www.CruiseInnRVParks.com or call 888-222-3505 for reservations and more park information.