Cavco to showcase the nation's first smart park model RV at RVS in Salt Lake City
by Jeff Crider —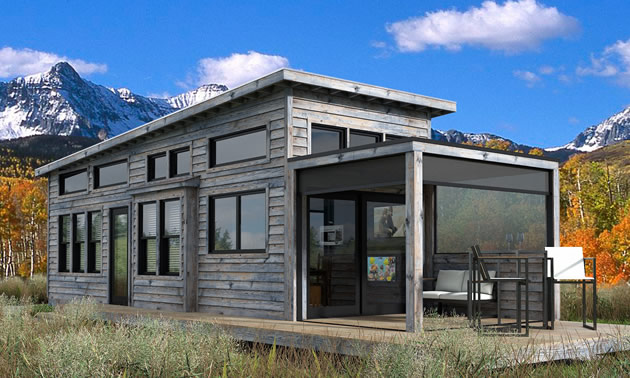 The campground industry has embraced the use of park model RVs as cabin-or cottage-style rental accommodations. But what will these units look like a dozen years from now? Moreover, what kinds of guest amenities will they provide?
These are questions Cavco attempts to address with its concept of the nation's first smart park model RV, which will be on display at RVX, March 12-14, in Salt Lake City.
"Our smart park model RV is a look into the future," said Tim Gage, Cavco's vice president of park model RVs, cabins, and specialty products. "Cavco's longstanding relationship with key developers and resort and industry leaders like Kampgrounds of America played a key role in establishing what will be displayed."
In addition to featuring a sleek design, the unit has more than a dozen voice-activated and futuristic amenities, including:
JOSH voice-controlled artificial intelligence.
SAVANT Platform Smart Host 2 automation software system.
12-inch Apple iPad central display.
Voice-controlled lighting and window coverings by Lutron.
Dimplex Opti-V Aquarium with three-dimensional virtual exotic fish.
Remote or voice-controlled vertical commercial roller screens on the front porch.
Voice-controlled 43-inch Samsung Frame Premium 4K TV with Roku Ultra.
Sonos acoustic speakers placed professionally for optimal sound.
Voice-controlled and award winning Haiku ceiling fans.
Oversized smart sensor Velux skylights featuring NETATMO, clear glass and solar-activated blackout shades.
"All of this might seem a bit of a stretch of a rental unit in a campground, but the campground industry is increasingly embracing new technology because that's what their guests demand," Gage said. "Most campers have a hard time parting with their electronic devices. We think in the future they'll be increasingly enamored with voice-activated amenities in their homes and will expect to see them when they travel as well."
Cavco continues to lead the Park Model RV industry when it comes to developing future market trends, including niche markets, particularly those involving new technology, innovative designs and floorplans. Five years ago, Cavco partnered with students from California PolyTechnique University's College of Environmental Design to develop a new cabin concept for California State Parks. The 155-square-foot unit, called The Wedge, incorporates various materials, including wood, glass, concrete and aluminum and a unique roofline with a 90-degree angle for a modern look.
In 2010, Cavco installed one of the nation's first "off-grid" park model RVs at the Herkimer Diamond KOA in Herkimer, N.Y. and it proved to be so popular that the campground bought two more of the units, creating a mini "solar colony" with park model RVs powered exclusively by solar panels with backup propane generators.
Cavco subsequently worked with the same campground to develop a park model RV "astronomy lodge," which is equipped with star charts and astronomy education resources as well as oversize skylights for stargazing and two observation decks, including an elevated deck equipped with a telescope.
About Cavco Industries, Inc.
Cavco is a leading builder of park model RVs, vacation cabins, and tiny homes as well as manufactured and modular housing. Headquartered in Phoenix, Ariz., Cavco has earned a reputation for quality and value during more than 50 years in business. Cavco and subsidiaries Fleetwood Homes, Palm Harbor Homes, Nationwide Homes, Fairmont and Chariot Eagle are among the strongest brand names in the industry. The Company employs approximately 4,300 people and operates 19 manufacturing plants across the United States as well as retail home centers, finance and insurance businesses. For more information, please visit www.parkmodels.com and www.cavco.com.