Campground operators have re-invented the concept of tent camping
by Jeff Crider —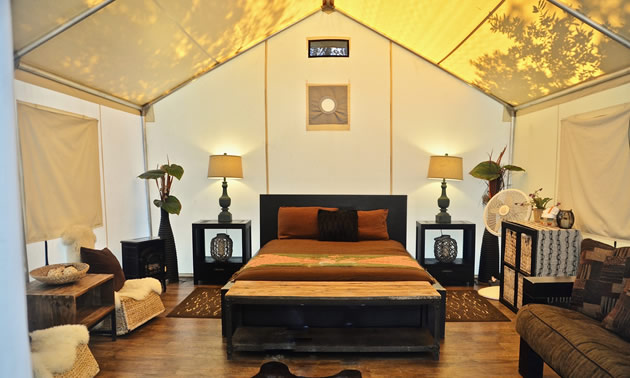 For some, the idea of tent camping conjures up thoughts of hardship and suffering.
But in this age of glamorous camping or "glamping," several of California's campground operators have completely reinvented the concept of tent camping.
Modern glamping tents are as big as a bedroom, and campground operators typically place them on wooden platforms instead of the ground. So you don't have worry about tracking dirt in and out of the tent. You don't even have to think about squeezing into a sleeping bag! Glamping tents come equipped with comfortable beds, clean linens and furnishings as nice as you have at home. Many even have kitchen appliances, such as microwave ovens, mini refrigerators, coffee makers and outdoor barbecue grills as well as heating units to ward off the night's chill and indoor lighting and electrical outlets, so you can keep your electronic devices fully charged.
"Glamping tents are nothing like the tents we grew up with," said Debbie Sipe, executive director and CEO of the California Association of RV Parks and Campgrounds, which hosts Camp-California.com, the travel planning website.
"They're really as comfortable as can be, which is why they are growing in popularity, not only in California, but across the country," Sipe said. "It's the most comfortable way to tent camp."
Campgrounds with glamping tents and other unique rental accommodations can be found by running an advanced search on Camp-California.com and checking the "specialty camping" option for "lodging type."
Here's a sampling of campgrounds that offer furnished glamping tents across the Golden State:
AutoCamp Russian River in Guerneville: This campground has luxury tents, each of which features queen-size beds, linens, a heated blanket and comforter as well as a heavy throw blanker, towels, two bath robes, three complimentary compressed logs, matches, campfire cookware, a kettle, a lantern, a cooler, and two outdoor chairs around a campfire with grill. The Russian River is across the street from the campground, which is also walking distance from downtown Guerneville.
El Capitan Canyon near Santa Barbara: This high end campground complements its luxurious cabins with 12-by-14 foot safari tents, which are positioned on raised wooden decks. These safari tents come equipped with either a queen bed or two double beds. All tents have screen windows with zip-down flaps and come equipped with heaters and electric lamps as well as an outdoor picnic table, grill and fire pit, which is perfect for fireside gatherings, grilling and roasting marshmallows.
Fernwood Campground & Resort in Big Sur: This campground complements its RV and tent sites with furnished and heated glamping tents as well as furnished cabins with fully equipped kitchens.
Flying Flags RV Resort & Campground in Buellton: This park complements its vintage RV and cottage rentals with an African themed Safari tent village. Each safari tent features either one king-size bed or two queen-size beds. The tents are equipped with high-end furnishings, including upscale wooden furniture and fine lighting with an oil rubbed bronze finish. The tents are set up on wooden platforms and come with outdoor cooking areas with high-quality propane-powered steel barbecues with adjoining flat top grills, sinks and granite countertops.
Inn Town Campground in Nevada City: This campground complements its RV and tent sites with 17 furnished glamping tents with wood floors, luxurious furnishings and private balconies with Adirondack chairs. Twin and queen-size beds come with fresh linens and heated mattress pads.
San Diego Metro KOA in Chula Vista: This family-owned campground complements its RV and tent sites with furnished Australian and safari inspired glamping tents. Each glamping tent can sleep up to six people with one queen-size bed and two sets of bunk beds. A partial kitchen is also provided and includes a sink, a microwave and a mini refrigerator.
Ventura Ranch KOA in Santa Paula: This campground complements its RV and tent sites and cabin rentals with four safari tents, which include a high-end queen-size bed, a refrigerator, a microwave oven, and a coffee maker, among other amenities, including a heater and a fan.
Vineyard RV Park in Vacaville: This park complements its RV sites with glamping tent cabins with either one queen bed and two twin beds or two twin beds. The units also have a mini fridge and dining table and air conditioning and heating. Adirondack patio chairs are also available for outdoor seating.
Based in Auburn, California, the California Association of RV Parks and Campgrounds is the trade association representing California's campground industry. In addition to hosting a travel planning website, the association publishes a free award-winning camping guide, Camp-California! The Camper's Guide to California and Nevada, which can be ordered through Camp-California.com. A digital version of the guide is also available on the website.