CampCalNow president Dyana Kelley launches series of fall camping reports on FOX news
by Jeff Crider —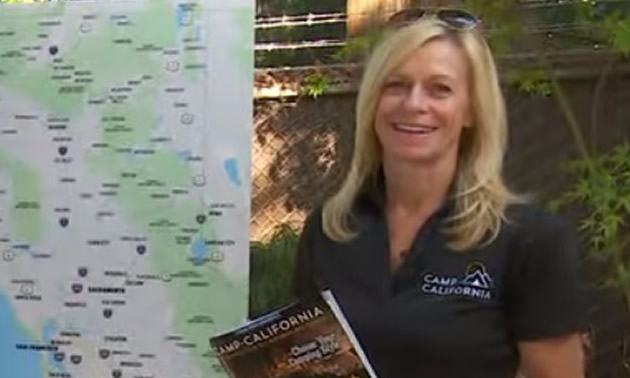 CampCalNow President Dyana Kelley used her latest Fox News appearance to promote fall camping with visits to California's national parks.
"Fall is the best time to go the national parks," Kelley said during her September 10 report on Fox 42 in Sacramento. "The crowds are less, the cooler temperatures, the beautiful color. It's an awesome time to go see the national parks." Kelley's report, the first of several fall camping segments to be aired in the coming weeks, highlighted several national parks, including:
Redwood National Park: This park is one of several northwest California parks that preserve and protect nearly half of the world's coastal redwood trees, which can grow to heights exceeding 350 feet, in addition to providing habitat for herds of Roosevelt elk.
Lassen Volcanic National Park: This northern California park is home to all four types of volcanoes — including shield, composite, cinder cone and plug dome — and features bubbling geothermal sites, crystalline lakes, meadows and many miles of hiking trails.
Point Reyes National Seashore: This 70,000-acre coastal preserve, three hours northwest of San Francisco, protects more than 1,500 animal and plant species and 80 miles of shoreline. The historic Point Reyes Lighthouse, built in 1870, served mariners for over a century. A visit to the remote preserve can include hiking, boating, guided tours, a tree tunnel and views of herds of tule elk.
Pinnacles National Park: Elevated to a national park in 2012, Pinnacles National Park is known for its talas caves, canyons and towering rock spires.
Yosemite National Park: California's oldest and most popular national park is the third most visited national park in the nation. But while many of its famed waterfalls are just a trickle at this time of year, Yosemite's sheer granite cliffs and iconic rock formations, such as Half Dome and El Capitan, draw visitors year-round. Autumn visitors are also treated to beautiful fall colors. Fox News noted that California is home to nine national parks, more than any other state.
Kelley also referenced several campgrounds that can be used as base camps for visiting national parks, including Village Camper Inn in Crescent City, which is just outside Redwood National Park; Olema Campground in Olema, which is close to Point Reyes National Seashore; and San Benito RV and Camping Resort, which is near Pinnacles National Park. Kelley also promoted Camp-California.com, the statewide travel planning resource, as well as CampCalNow's free printed campground directory, Camp California! The Camper's Guide to California.
Kelley's full Fox News report on fall camping trips to the national parks can be seen here.
CampCalNow's media outreach efforts include regular outreach to television and radio stations as well as newspapers and magazines and engagement with bloggers and social media influencers.
"We're doing everything we can to raise awareness of Camp-California.com and the outdoor hospitality industry," Kelley said, adding, "These television reports are raising awareness about the private campground industry in general."